2022 CCIA Board of Director Nominees

The 9th Annual CCIA Board Election Is Underway!
Join other leading industry professionals in shaping the direction of California's cannabis industry
Being a CCIA Board Member is an important and influential position in California's cannabis industry. Board Members vote on the CCIA budget, provide strategic policy direction, serve as representatives of CCIA, and participate in Capitol advocacy and recruitment events. At the conclusion of this election, the CCIA Board will be comprised of 15 dynamic individuals who are committed to representing California's fastest-growing industry.
Voting Process | December 7th - 15th

All active CCIA members in good standing will be eligible to vote in the Board elections.
The voting will follow a weighted system and breaks down as follows:

Associate / Associate+ / Social Equity member ballot equals 1 submission
Business member ballot equals 3 submissions
Executive member ballot equals 5 submissions
Eligible voters will be directed to an online ballot on December 7, and will be able to vote for candidates through December 15, at 5:00 PM. Each member-company gets one ballot, the first time-stamped ballot received will be counted.
2022 CCIA Board of Director Nominees
(I) = Incumbent
(I) Michael Boniello - Independent Advisor
Laura Fogelman - PAX
(I) Eddie Franco - Nabis
Lawrence Hudson - The Cronos Group
Darius Kemp - Curaleaf
(I) Yvette McDowell - McDowell and Associates
Tim Morland - Abaca
(I) Sabrina Noah - Cresco Labs
(I) Nicole Phillis - Davis Wright Tremaine
Autumn Shelton - Autumn Brands
Michaela Sweatt - ALG Strategies
(I) Caren Woodson - KIVA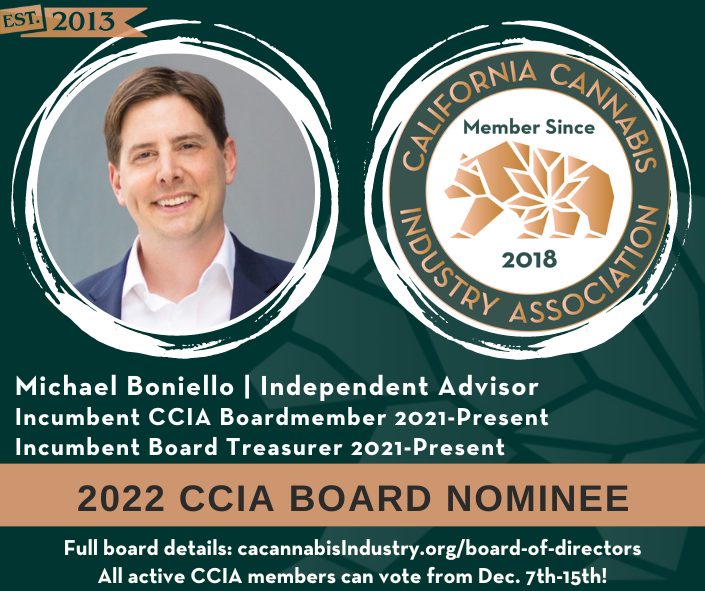 Mike is responsible for early stage diligence on companies, managing the government policy, as well as co-managing investor relations and raising capital for Poseidon's funds and portfolio companies. Prior to joining Poseidon in 2018, he spent seven years between Merrill Lynch's Private Bank and Investment Group and Barclays Bank, co-managing over a billion in assets at each firm for high net worth individuals, families, and foundations.
He entered into the cannabis industry in 2013 doing pro-bono business and regulatory work for early stage companies trying to navigate the highly fragmented and regulated industry. This was a great way to really learn about the industry and the people while assisting new cannabis entrepreneurs. Mike loves the industry and has gotten close to brands, cultivators, retailers and technology founders supporting the space. He believes in the continued growth of the industry and feels California cannabis has a rich heritage that he would like to see flourish.
The past 2+ years of raising capital into the cannabis industry has given him great insight into the minds of the investors about what it will take for them to allocate capital into (or back into) the California market and its social equity programs. These daily interactions between both investors and operators is important for understanding the balance needed to further build the industry in a constructive manner. Believing true change starts at the policy level, Mike has been a CCIA Federal Policy Advisor (FPA) for over a year and has been part of its DC lobbying efforts. He also sits on the CCIA DISE and Legislative Committees.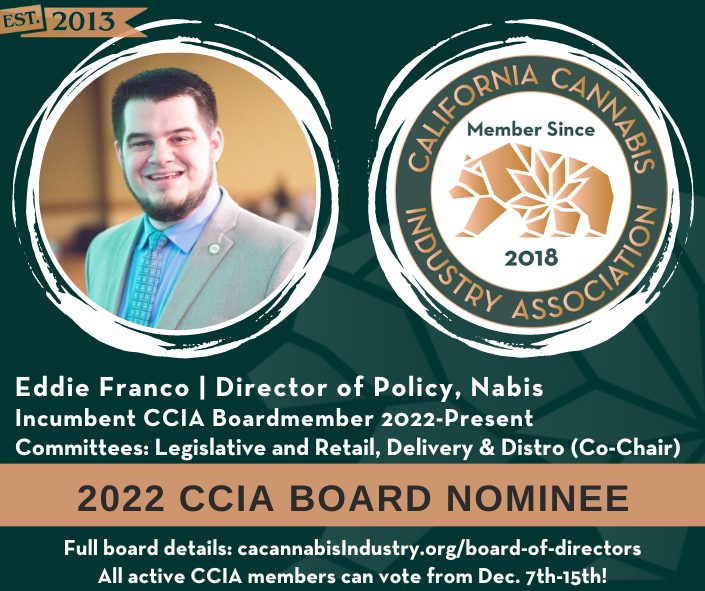 Eddie Franco is the Director of Policy at Nabis, California's leading cannabis wholesaling platform, responsible for overseeing the company's licensing and regulatory affairs. With over six years of experience in cannabis policy and laws, Eddie is consistently looking to improve California's legal and regulatory landscape by leaning on his past experiences and the wide network of brands, retailers and operators Nabis serves. Prior to his current role, Eddie was the Legislative and Regulatory Affairs Manager at CCIA, overseeing the trade group's policy and regulatory objectives, and is honored to continue contributing to the association as a board member. In 2018, Eddie staffed Asm. Bill Quirk's cannabis portfolio including AB 2020, which established legal cannabis events in California.
In addition to serving as a Board Director at CCIA, Eddie also holds board positions in the Cannabis Distributors Association (CDA) and Oakland Citizens for Equity and Prosperity (OCEP). During his free time, you'll likely find Eddie at the local comic book shop or spending time with his wife and their ever-growing family of rescue pets.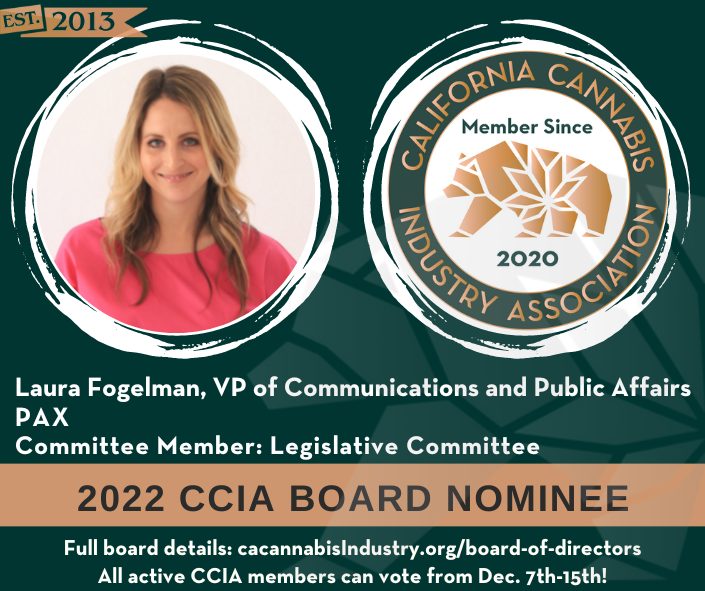 Laura Fogelman is VP, Communications & Public Affairs at 
PAX
, a leading global cannabis brand on a mission to deliver consumer well being through exceptional cannabis experiences. In her role, she leads communications, public policy and social impact for the brand, including partnerships with leading nonprofits and advocacy organizations driving social change. Laura won a Clio award for 
The Human Toll: How the War on Drugs Targeted Black America
, a three part docu series produced in partnership with 
Vanity Fair
 and the Last Prisoner Project, and has delivered coverage in top tier publications including 
The New York Times, Forbes, Fast Company, Wired, Adweek, High Times 
and more.
Laura serves on the legislative committee of the California Cannabis Industry Association, is a Steering Committee and founding member of Legal Cannabis for Consumer Safety, serves on the policy and communications committees of the United States Cannabis Council, is a member of the policy council of the Marijuana Policy Project and is a member of Chief, a network focused on connecting and supporting women executive leaders. Prior to joining PAX, Laura was VP, Strategy & Accounts at Grow, a marketing agency with clients including Google, Airbnb, BlackRock, Nike, Target, Dignity Health and more. She previously held various public affairs roles at McKesson Corporation.
Laura received her Bachelors from the University of California, Davis, and currently lives in Marin County with her husband, son and golden retrievers.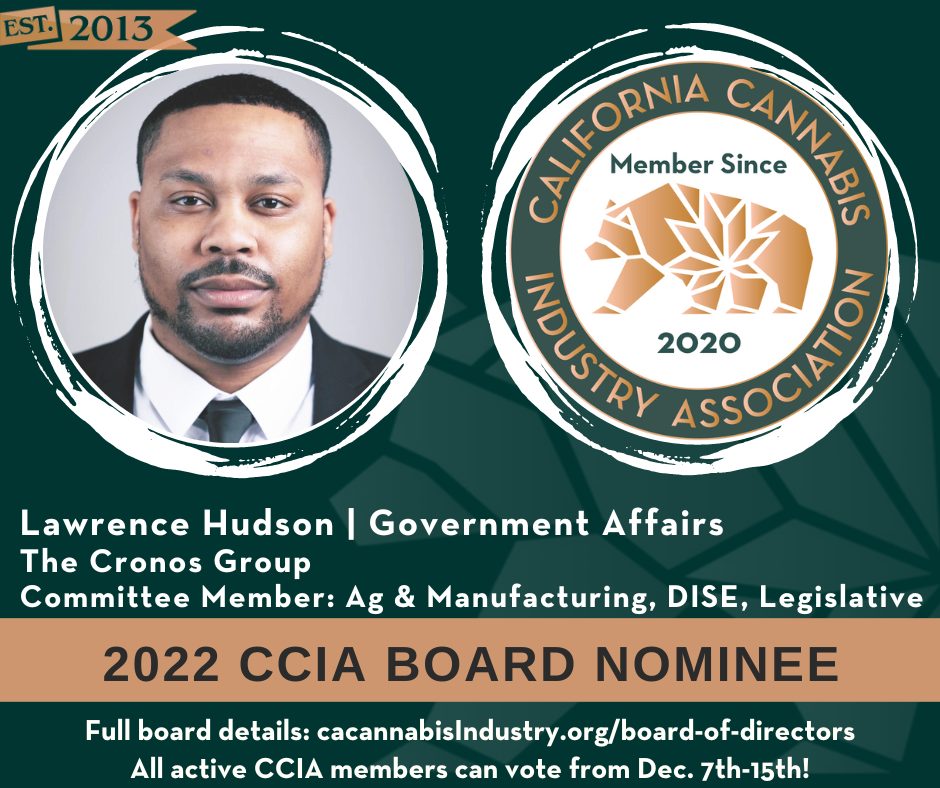 Hailing from Queens, New York, Lawrence Hudson Jr. is the Government Affairs Associate with Cronos Group, an innovative global cannabinoid company committed to building disruptive intellectual property by advancing cannabis research, technology, and product development.
In this role, he advocates for the federal legalization of cannabis by building relationships with and educating key stakeholders and senior Congressional staffers, all while working to expand equity, access, and opportunities within the social equity space across the cannabis industry. His experience as a federal & state lobbyist has given him the ability to work on both sides of the isle, helping to create coalitions that make change happen in government both locally and federally. Moreover, his experience in production, media, and planning conferences has honed his ability to craft a message that can resonate with politicians, business owners, and consumers alike.
For example, Lawrence helped facilitate CEO 'fly-ins' and lobby days with the National Cannabis Industry Association (NCIA), the United States Cannabis Council (USCC), and the United States Hemp Roundtable (USHR). Most notably, he produced and moderated panels for the Black CannaBiz Conference & Expo, as well as the "Black in the Green Rush" panel at the BET Award's "House of BET" event with industry leaders like Whitney Beatty from Josephine & Billies, CCIA member Kika Keith from Gorilla RX, and U.S. Representative Troy Carter, who has been a champion of our industry since he was elected to the United States Congress. Additionally, Lawrence has spoken on numerous panels hosted by organizations like the USCC, Awaken.Space, Seasoned Gives and Women Grow.
Prior to Cronos, Lawrence worked with Viacom (BET Networks), The District of Columbia Government, The Multicultural Media Correspondents Association, and various other places at the intersection of media & government. Lawrence obtained his bachelor's degree from St. John's University, master's degree from Newhouse School of Public Communications at Syracuse University, and a juris doctorate from Howard University School of Law. He is also a proud member of Kappa Alpha Psi Fraternity, Inc.
It is both an honor and a privilege to be nominated to run for a board position and Lawrence's commitment to the progression of the industry and unwavering work ethic makes him an ideal candidate for the California Cannabis Industry Association Board. He is thrilled at the prospect of joining a community of distinguished industry professionals and advocating on behalf of the interests of CCIA and its members. If elected, he hopes to start an internship program for schools across California and beyond that would give college and graduate students opportunities to work in the corporate cannabis space, with a focus on students of color and students whose families have been impacted by previous archaic cannabis laws.
Thank you so much for your time and consideration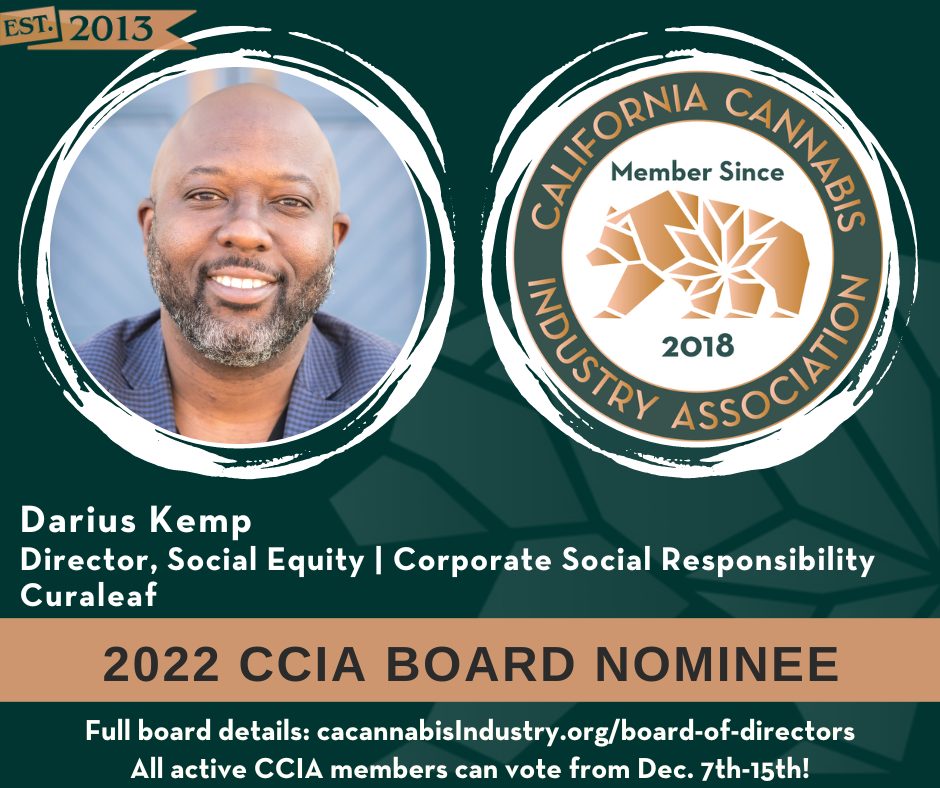 Born and raised in Birmingham Alabama, an HBCU grad (Alabama A&M University), community activist, Returned Peace Corps Volunteer, and labor union organizer with SEIU; and is currently the National Director of Social Equity for Curaleaf.
Also, Darius created the first of its class corporate Social Equity program that has developed over 14 Social Equity brands and sold over $15 million of BIPOC and women-owned cannabis products, that were integrated into a premier social equity accelerator Momentum.
Lastly, he wants to bring his values of collaboration, justice, and equity to the growing cannabis industry. He is dedicated to creating a cannabis industry that rectifies the problems created by the failed war on drugs that has imprisoned and killed BIPOC (Black, Indigenous, and People of Color), by creating generational wealth for these communities.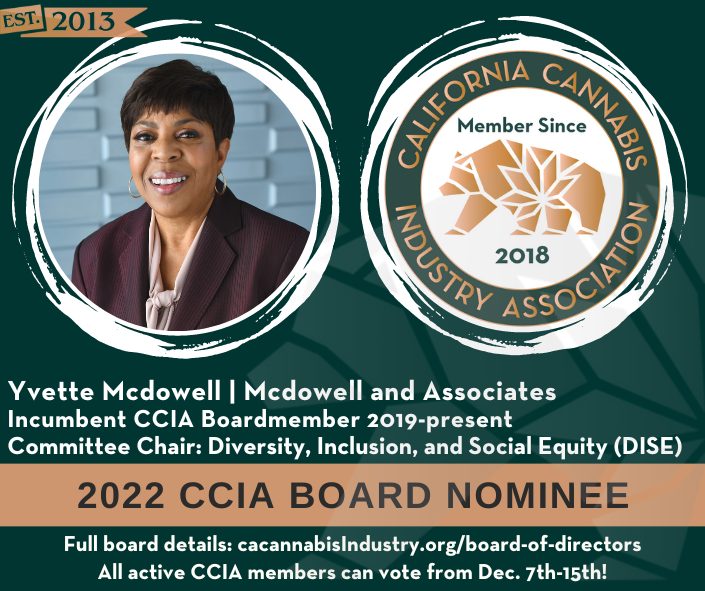 As a second term member of the board of directors, Yvette has more work to do for CCIA!
As a former firefighter-paramedic and a retired Emmy Award Winning Assistant City Prosecutor and trial attorney, she brings to the table years of hand-on experience. She has a deep respect and value for justice and believes that equity is where justice begins and ends. Described by colleagues as relentless, determined and a force to be reckoned with, she balances her tenacious spirit with compassion and empathy.
"Equal justice under cannabis law for all" has become Yvette's motto! Her ultimate focus is to educate those in power and make sure that regulation is tolerant in its impact and is inclusive of the entire community. Working side by side with city and county governments to educate and foster economic growth will bridge the communication gap between local government and the community regarding the cannabis industry. Regulation should be followed, but not overly burdensome.
During and after Yvette's retirement from city government she has been a part of numerous associations and boards: California District Attorneys Association, California Cannabis Industry Assn, National Cannabis Industry Assn, National Cannabis Bar Association, Law Enforcement Action Partnership, California Peace Officers Association, Minority Cannabis Business Association, Women Leaders in Law Enforcement.
Let's continue building this association together, to ensure our success as the premier industry group of committed individuals, working to make the cannabis industry a place where those that want to participate, can!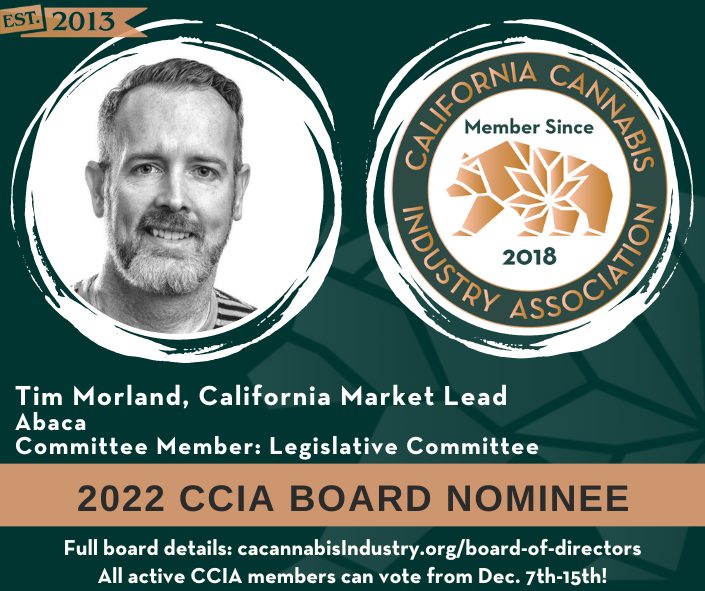 Tim is the Owner of Morland Consulting, LLC, a premier cannabis compliance firm, specializing in financial services, licensing, applications, compliance and governmental affairs work. Tim serves as the California Market Lead for Abaca x Pacific Valley Bank.
Tim served as the Senior Vice President of Cannabis Business Relations at Pacific Valley Bank. Tim has extensive knowledge of federal banking regulations pertaining to the cannabis industry. Tim has also been integral in providing traditional financing to the cannabis industry in his position at Pacific Valley Bank.
Tim served as the Director of Compliance and Governmental Affairs for Kiva Confections, a leading cannabis edible company. Tim was responsible for directing all compliance related issues over Kiva's multiple licenses. Tim represented Kiva in the State Capitol and with State regulators. Tim was also responsible for maintaining and acquiring new licenses for Kiva Confections.
Tim served as the Compliance and Policy Director for Origin House. Tim managed and directed compliance for all Origin House acquisitions. While working for Origin House Tim directed an ambitious legislative package. Tim also worked closely with all agencies, which regulate the cannabis industry in the State of California.
Prior to joining Origin House, Tim served as the Director of Legislative and Regulatory Affairs for Board of Equalization Member Fiona Ma from 2015-2017. Tim staffed Chairwoman Ma on the State Treasurer's Cannabis Banking Work group. Tim served as a member of the San Francisco Cannabis Task Force on behalf of the State Board of Equalization. Tim also staffed Chairwoman Ma on cannabis taxation and cannabis legislation.
Tim served in the Assembly Chief Clerk's Office from 2008-2015. Tim was the Assembly Daily File Clerk from 2013-2014, and the Reading Clerk for the California State Assembly from 2009-2013. Tim also served as the Engrossing and Enrolling Clerk for the Assembly
Chief Clerk's Office from 2008-2009. He graduated from California State University Sacramento with a degree in Government with high honors in 2008 (Phi Kappa Phi).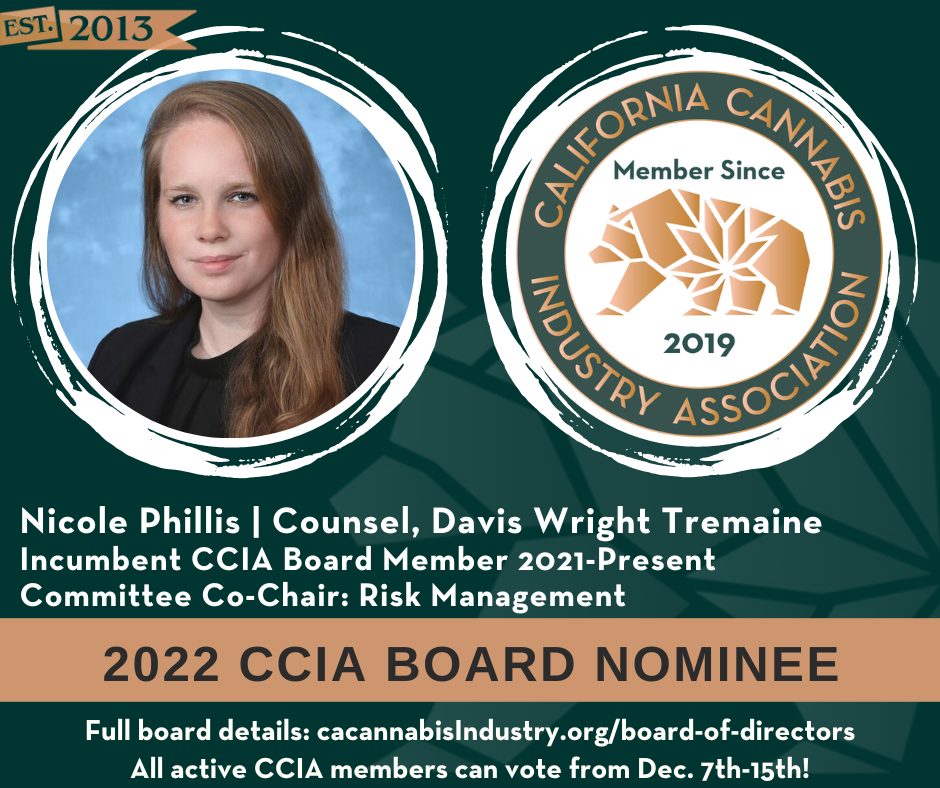 Nicole Phillis is a commercial litigator at Davis Wright Tremaine LLP ("DWT") and co-chairs DWT's Cannabis Industry Group.  She has represented some of the largest brands, investors, and enterprises in the cannabis industry in a wide range of litigation matters, including supply chain disputes, trademark and trade dress litigation, breach of contract and corporate governance disputes, unfair competition disputes and class actions, trade secret actions, and defamation matters, among other things.
In addition to her litigation practice, Nicole advises clients in both the cannabis and hemp industries on speech, advertising, and compliance-related issues.  She has written extensively on cannabis advertising and been featured on multiple panels based on her advertising and speech expertise, including most recently for the LACBA Cannabis Section's Second Annual Litigation Salon (2021), the LACBA Cannabis Section's Cannabis Advertising CLE (2021), and the International Bar Association's panel on Cannabis Trends in the Americas (2021).
Nicole is also very active in industry advocacy spaces, serving as a co-chair for CCIA's Risk Management Committee (2021-Present) and as an executive board member and former VP of Communications for the Los Angeles County Bar Association Cannabis Section (2019-Present).  She focuses much of her pro bono practice on serving social equity applicants and licensees in the cannabis industry.
In her civic life, Nicole is an elected commissioner and past chair of the Santa Monica Rent Control Board, a municipal office to which she was first elected in 2014.  Nicole has also served as a delegate to the California Democratic Party (2017-present), the Los Angeles County Democratic Party (2017-2021) and previously chaired Santa Monica's Commission on the Status of Women (2013-2017).
In her personal life, Nicole is a dog-mom to three Golden Retrievers (Loki (12.5 years), Parker (11 years), and Georgia (7 months)) and a Maine Coon cat (Theo, 8 years).  Nicole is also an avid Settlers of Catan player and won her first Catan tournament in 2021!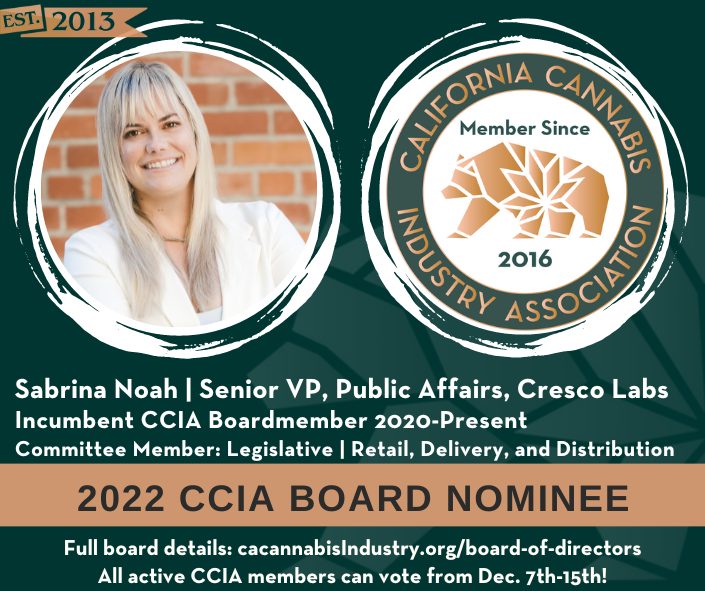 As Cresco Labs Senior Vice President of Public Affairs, Sabrina Noah's work advancing the company's presence in new markets has led the company to grow operations from one state to 12 and generate annual revenue of over $43 million (2018). In a highly regulated industry where each state's cannabis program is comprised of different and precise requirements for operations, Ms. Noah ensured the company was compliant with laws, regulations, internal policies and controls in all the states where the company is currently operational as well as in states where the company is advancing the business. Ms. Noah's work is a critical component to Cresco Labs' growth strategy to be one of the largest vertically and most compliant integrated US-based cannabis companies.
Under Ms. Noah's leadership, Cresco Labs opened and operated 23 cultivation/production facilities and 56 retail dispensary licenses across Illinois, Pennsylvania, Ohio, Arizona, California, New York, and Michigan.
Previous to joining Cresco Labs, Ms. Noah worked for 15 years in government relations and organizing grassroots campaigns across the country. During this time, Ms. Noah was integral in helping several new medical cannabis markets draft legislation. Before joining the cannabis industry, Sabrina worked with Fortune 500 companies in healthcare, automotive and technology industries.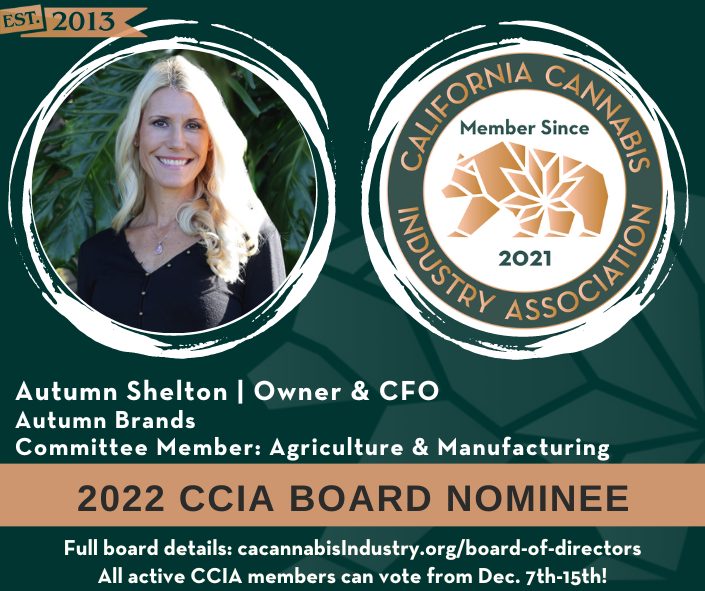 As CFO, Autumn oversees strategic planning, marketing, compliance, legal, human resources, and finance.  Autumn has been successfully navigating the uncharted waters of California's Prop 215 and the Regulated California Cannabis industry (Prop 64) since 2015 and is a sought-after panelist and public speaker on the nuts and bolts of operating a licensed California cannabis cultivation business.
In 2021, under Autumn Shelton's leadership as President of CARP Growers, the Cannabis Association for Responsible Producers concluded a year-long negotiation and reached a historic agreement between the CARP Growers and the Santa Barbara Coalition for Responsible Cannabis on a cooperative agreement for odor abatement. Before moving to the agriculture sector, Shelton was focused on a career in commercial property development and management utilizing her CA Brokers License.  Autumn lives with her husband, Abe, son, Lennox and daughter, Jade, in Santa Barbara, California, and enjoys hiking and camping in her free time. She graduated from UC Santa Barbara with a bachelor's degree in Psychology, with a minor in Italian

.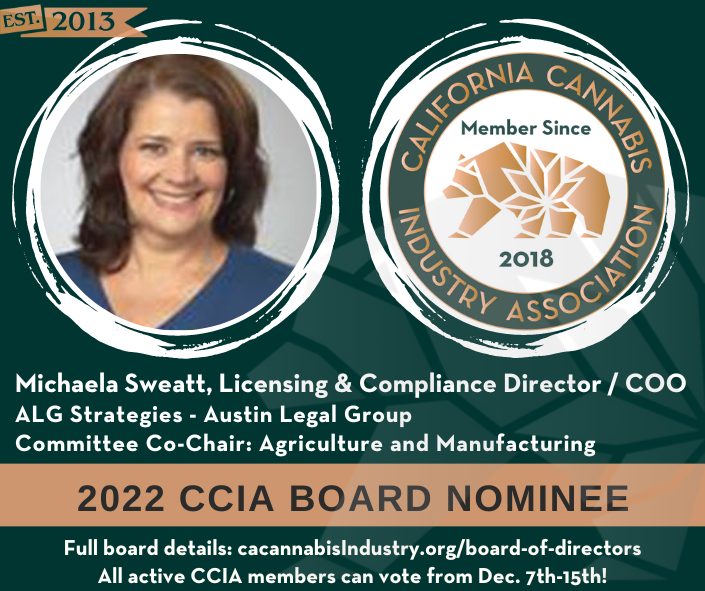 Michaela Sweatt is Licensing and Compliance Director and Chief Operating Officer at Austin Legal Group/ALG Strategies. Michaela delivers local permit, state licensing, and compliance services to a large portfolio of cannabis clients from small operators to large MSOs. She is known as a problem solver when working with local jurisdictions and the California Department of Cannabis Control (DCC). As a California regulatory compliance consultant Michaela assists clients by providing up-to-date knowledge of the laws and regulations that affect the cannabis industry so that cannabis business owners have the information they need to make business decisions.
Michaela is currently Co-Chair of the Agriculture and Manufacturing Committee of the California Cannabis Industry Association (CCIA) where she shares her expert-level knowledge of licensing and compliance while working with other industry professionals to provide input into proposed legislation, regulation, and best practices in the ever-changing cannabis industry.
Prior to joining the cannabis industry in 2017, Michaela was a product-launch consultant and entrepreneur. She co-founded Nurture Connect, a company that created a distribution and sales platform for digital health technology companies to launch their health, safety and communication technology products and services for healthcare professionals, senior care organizations and family caregivers. She gained her business experience at start-ups and Fortune 500 companies from Stanford Healthcare, GreatCall's launch of the Jitterbug cell phone (now owned by BestBuy), Microsoft, Intuit, and The Walt Disney Company's "Disney Interactive" software division where she provided her deep consumer insights into winning customer experiences.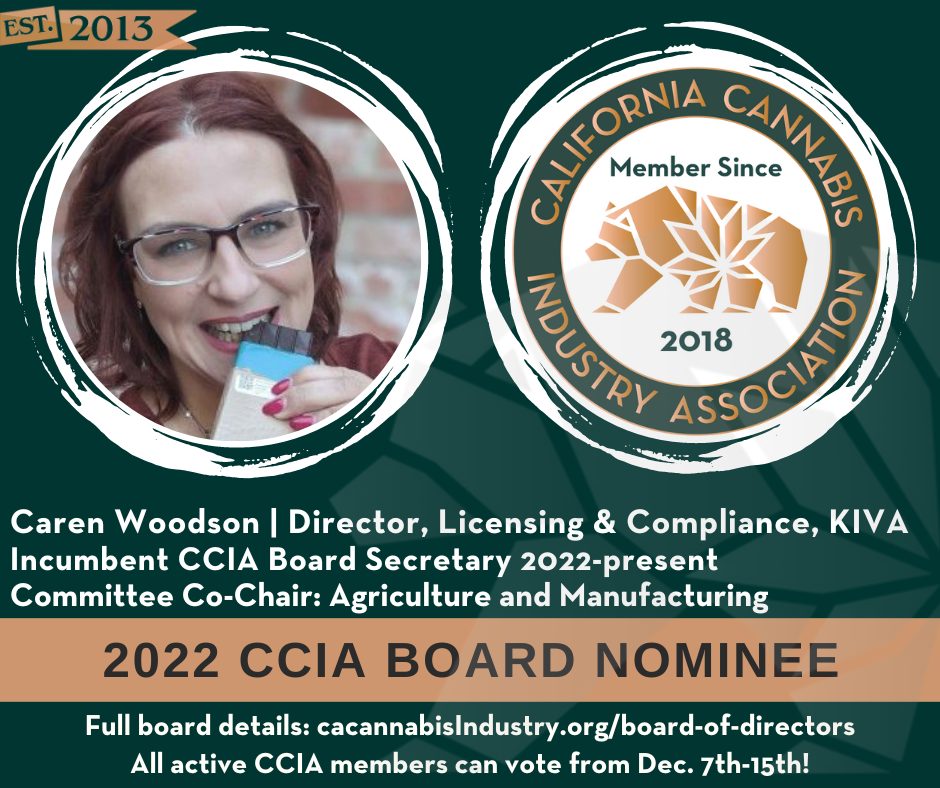 Caren Woodson is a nationally recognized marijuana policy expert with over twenty years of experience advising policymakers at all levels of government about transforming law and policy. Her unique perspective on managing compliance risk comes from her combination of employment with national drug policy reform organizations, licensed marijuana operations, and the State of California. She pioneered relationships with elected officials resulting in strategic gains for the cannabis industry during her tenure with Drug Policy Alliance and Americans for Safe Access; she lobbied early support for the Hinchey-Rohrabacher amendment, organized the first and only electronic dance party on Capitol Hill, facilitated adoption of medical marijuana laws in seven states, and played an integral role in the adoption of San Francisco's landmark medical marijuana dispensary ordinance.
Ms. Woodson's success stems from her ability to forge strategic partnerships. She guided favorable policy endorsements from the American Medical Association, National Association of Boards of Pharmacy, and American Public Health Association. Her collaboration with medical and scientific organizations led to the creation of the American Herbal Products Association's Cannabis Committee and the subsequent production of operating guidelines which many states have used to develop regulations. She has advised marijuana industry leaders across the nation on license acquisition and regulatory compliance. Her ability to design efficient compliance programs and mitigate risk is informed by her previous work as an environmental regulations specialist with the State of California. Successful navigation of complex regulations and consumer expectations has helped her clients strengthen brand reputation and value.
Born in California and raised in Las Vegas, Ms. Woodson received her degree in Political Science from the University of Nevada, Las Vegas and her Master's Degree in Public Policy from the American University in Washington, DC. She is a natural resource volunteer, avid cyclist, and enjoys backpacking in the high Sierras.