Welcome to the
California Cannabis Industry Association

California's Collective Voice for the Cannabis Industry
To promote the growth of a responsible and legitimate cannabis industry and work for a favorable social, economic, and legal environment for our industry in the state of California.
The California Cannabis Industry Association was founded on the principle of strength in numbers. The thousands of California businesses involved in our state-legal cannabis industry represent a significant economic force. As the industry's most influential state trade association, CCIA works everyday to ensure our burgeoning business sector is represented in a professional and coordinated way at the state level.
On May 12th, Governor Gavin Newsom presented revisions to his 2023-24 budget proposal. Otherwise known as the "May Revise", the governor forecasts that California's estimated budget deficit has grown to $31.5 billion and offered proposals aimed at closing the gap. With respect to cannabis, tax revenues are expected to fall well below earlier state projections. 
With cannabis tax revenues significantly below state projections, lawmakers are tasked with identifying solutions to close the budget gap - which could include a tax increase on our industry. 
AB 195 (Budget Committee) was approved last year when California was enjoying a massive budget surplus. AB 195 was the culmination of many years of collective efforts to advance meaningful tax reform for the legal cannabis industry. Zeroing out the cultivation tax indefinitely and shifting excise tax collection from distribution to retail were key objectives for CCIA. 
At the same time, AB 195 requires that certain programs dedicated in Prop 64 to fund public safety related activities, environmental clean-up, and youth programs be funded at a baseline of $670 million annually. AB 195 also provides a $150 million reserve of non-cannabis tax funds to be used, if needed, to meet the baseline if cannabis tax revenues fall short. Crucially, if these funds dip below the baseline, the Legislature must consider an increase to the excise tax. 
According to the Governor's May Revise, the State estimates that $567.4 million in cannabis tax revenue is available for Allocation 3 programming (this includes the $150 million to backfill potential shortfalls). That is over $102 million under the required baseline. 
Cannabis tax revenues have declined each of the last six quarters as legal businesses struggle in a limited retail environment to compete against illicit operators whose products aren't taxed or tested, allowing them to be sold for much lower prices. With the state's revenue outlook uncertain, it is imperative that we avoid any discussions that could lead to any tax increases on cannabis businesses. 
CCIA is hard at work informing lawmakers in Sacramento of the major impacts additional tax increases will have on California's legal industry, and ensuring budget negotiations do not lead to further hardship for cannabis operators. We can't do this without your support! 
The Benefits of Membership
Your business's participation with the California Cannabis industry Association means being represented alongside hundreds of other responsible industry leaders committed to bringing about a legitimate and professional cannabis business community.

During the legislative process CCIA has been extremely successful at building coalition partners outside of the cannabis reform movement. This includes medical organizations, law enforcement, labor unions, local and state government associations, and environmental protection groups. Together we create a coalition focused on responsible policy and regulations at the state capitol.

In addition to shaping the legal and regulatory framework for California's emerging cannabis industry, CCIA membership also provides a statewide platform to promote your business while offering you valuable discounts from participating cannabis industry partners.
Political Influence
Policy and Regulation Development
Education
Industry & Political Forecasting
Support
Exclusive Member to Member Services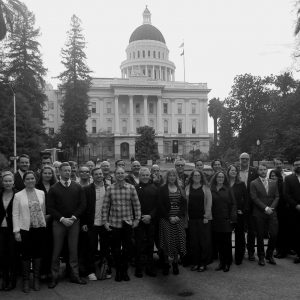 Community
Networking with Leading Industry Professionals