This new membership tier will provide free access to CCIA's legislative advocacy and general membership benefits to qualifying* Social Equity applicants and licensees in California. The program will equally focus on promoting local groups working on Social Equity issues in various communities by encouraging Social Equity applicants and licenses to engage directly with those groups.
* To qualify for a free membership the applicant or licensee must be working with one of the local Social Equity groups that CCIA has a partnership with. If your group is interested in a partnership please contact membership@cacannabisindustry.org
"SEOWA is excited to partner with CCIA to help Social Equity licensees and applicants gain access to and participate in the crucial state-level lobbying that is the backbone of CCIA. As a Social Equity licensee myself, it's vital that our voices are at the table when policy reform is being crafted," - SEOWA Co-Founder and President,  Kika Keith.
CCIA Social Equity Membership Tier Benefits
State & Federal Political Representation
Monthly Membership Calls
CCIA Member-Exclusive Newsletters
Company Listing in CCIA Member Directory
CCIA Exclusive Discounts and Offers
Highlighted Membership Directory Listing
CCIA Member Badge and Certificate
Complimentary Access to Member Events
Access to InfoHub and Exclusive CCIA Resources
Annual CCIA Membership Packet
Eligible to sit on one CCIA Committee
8+ years of experience building relationships with regulators and elected officials in Sacramento and across the state
Cooperative relationship with the Governors office
Deep understanding of Sacramento politics
Most influential trade-association representing the cannabis industry in California
Proven track record of success advocating for our members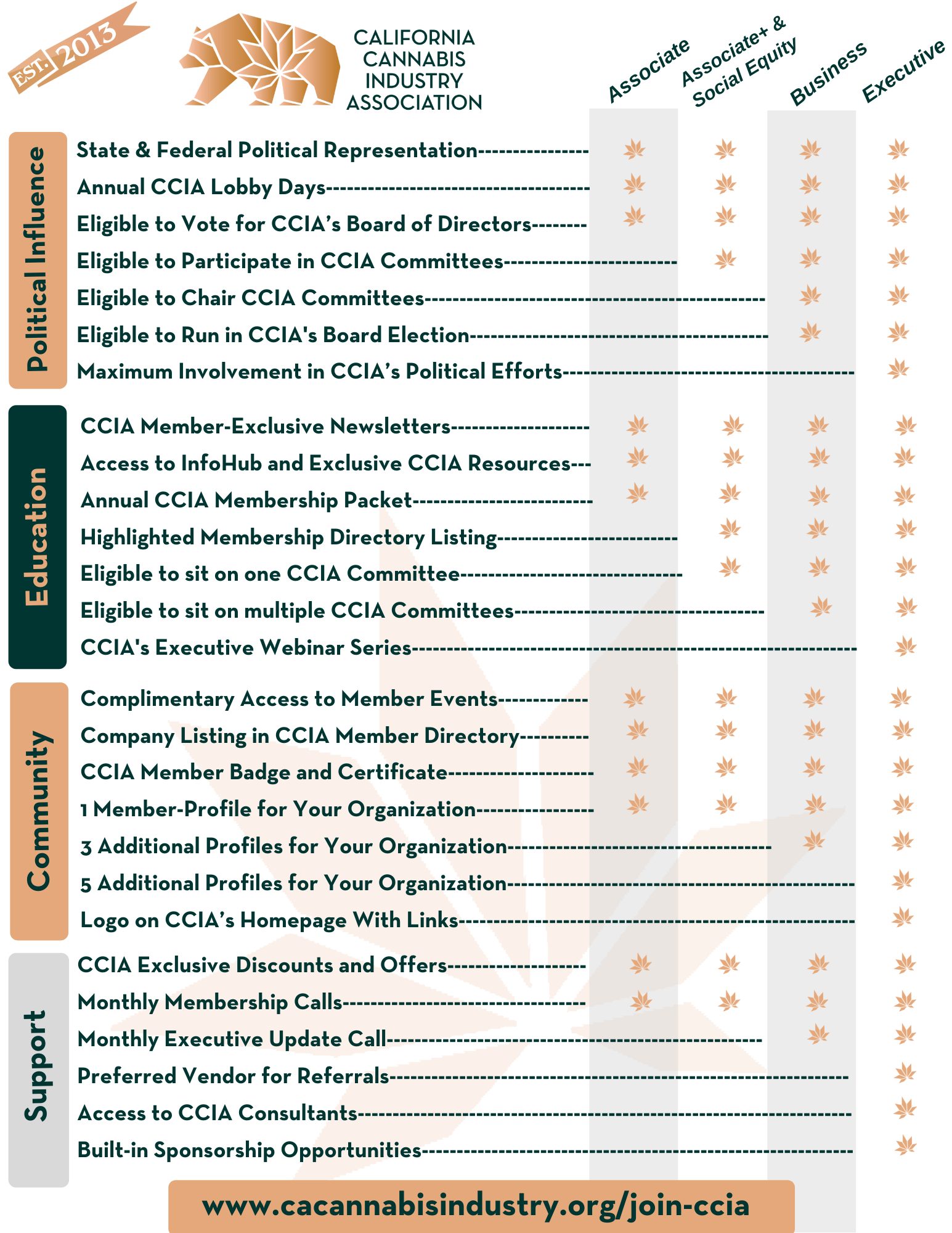 Want to Upgrade your Social Equity Membership?  Inquire with our membership team at membership@cacannabisindustry.org to learn how you can receive 50% off upgraded memberships!
Are you part of a different social equity organization and want to inquire how you can partner with CCIA? Please reach out to us at membership@cacannabisindustry.org