Congratulations to the Winning Candidates
The 6th Annual CCIA Board Elections Have Concluded!
Thank you for joining other leading industry professionals in shaping the direction of California's cannabis industry!
Being a CCIA Board Member is an important and influential position in California's newly regulated cannabis industry. Board Members vote on the CCIA budget, provide strategic policy direction, serve as representatives of CCIA, and participate in Capitol advocacy and recruitment events. At the conclusion of this election, the CCIA Board will be comprised of 15 dynamic individuals who are committed to representing California's fastest-growing industry.
2019 CCIA Board of Director Elections Winning Candidates
(Incumbents are listed first, and candidates are listed in no particular order otherwise)
(I) = Incumbent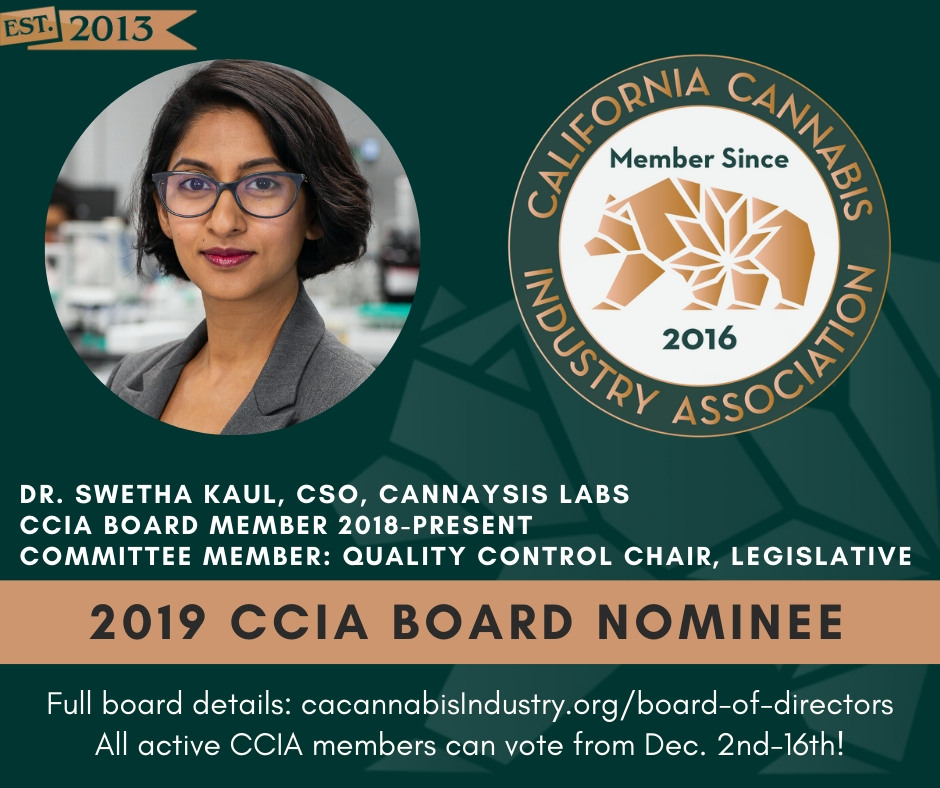 Dr. Swetha Kaul currently serves as the Chief Scientific Officer at Cannalysis, an ISO/IEC 17025:2005 accredited cannabis testing laboratory that seeks to empower customers through technology integrations, big data analytics and access to information. Swetha has an MS in Pharmacology and Toxicology and a PhD in Analytical Chemistry from University of Kansas.
Her experience working in the highly regulated pharmaceutical industry provides valuable insight into the rigorous scientific practices required for compliance. She has authored several white papers and has been on numerous panels discussing scientific methods and regulations relating to laboratory testing within the industry. As a member of the California Cannabis Industry Association Board of Directors and Chair of the Quality Control Committee, Swetha is committed to educating the general public about the science behind testing procedures and legitimizing the cannabis industry by setting a high bar for scientific integrity.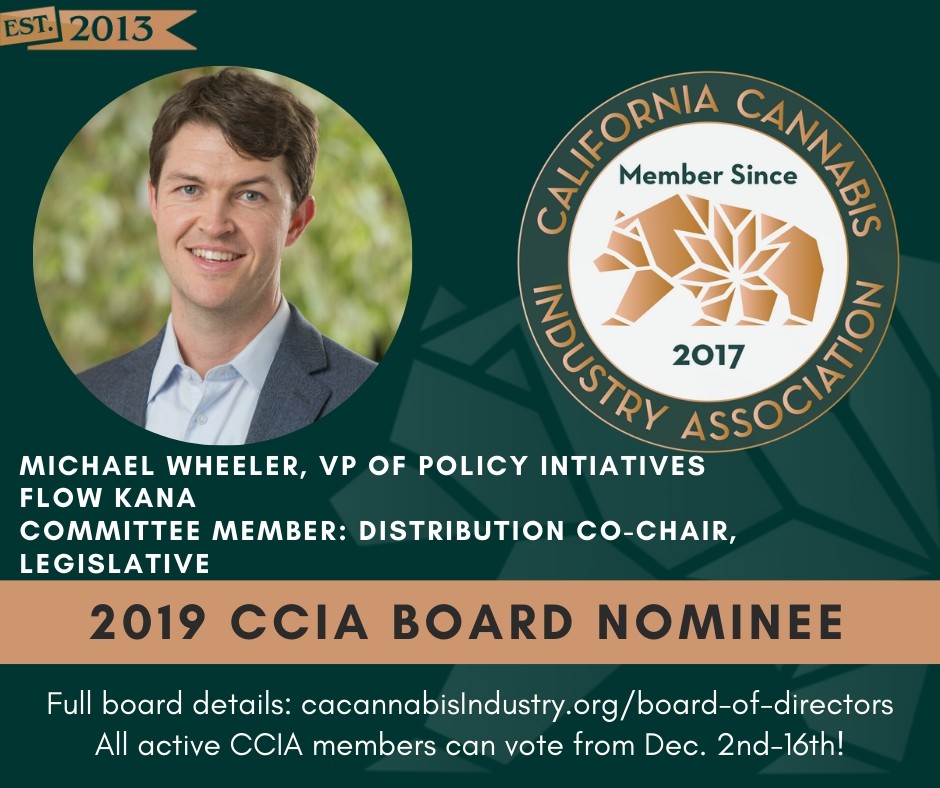 Michael Wheeler is the Vice President of Policy Initiatives at Flow Kana, a sustainable, sun-grown cannabis, supply chain company.
Michael leads the company's public policy interests at the local, state and federal level. Michael co-chairs the Distribution Committee and is the executive representative to the California Cannabis Industry Association.  He has been interviewed on cannabis issues by the Washington Post, MJBizDaily, Law360, and has participated in numerous panels at cannabis conferences.  
Michael Wheeler came to Flow Kana in 2017 with more than 12 years of policy expertise in the clean energy sector.  Since 2011, Michael led one of the U.S.'s largest solar developer's legislative and regulatory affairs agenda at the state and federal level. Michael was Board Chair of the Large-scale Solar Association in CA, and started the Texas Solar Association in Austin.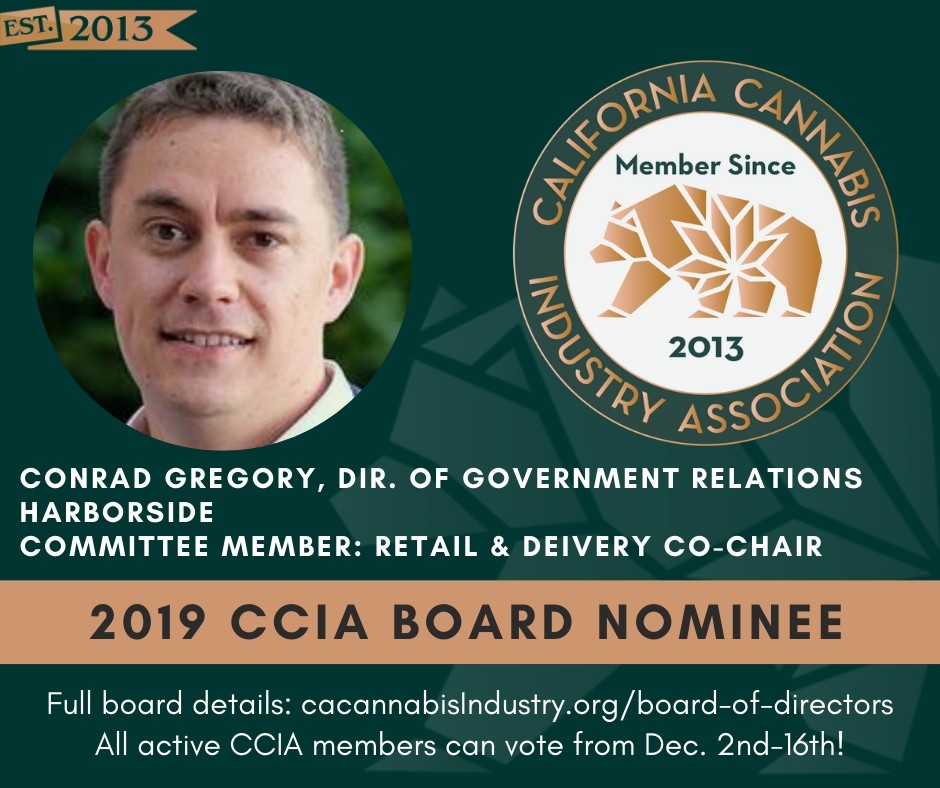 Conrad Gregory leads the government relations and licensing activities of Harborside Inc., one of the oldest and most respected cannabis companies in the country. His work covers the policy and politics of the cannabis industry as well as the development of current and future licenses.
Prior to joining Harborside, Gregory helped run several successful political campaigns at the local, state and federal levels before moving to Sacramento to work for then-Lieutenant Governor Gavin Newsom as Chief Consultant for Economic Policy. Gregory's work culminated in overseeing the Lt. Governor's Blue Ribbon Commission on Marijuana Policy, which ultimately influenced Proposition 64 to legalize adult-use cannabis in California.
In addition to his work at Harborside, Gregory co-chairs the CCIA Retail and Delivery Committee and is a founding member of Oakland Citizens for Equity and Prosperity (OCEP).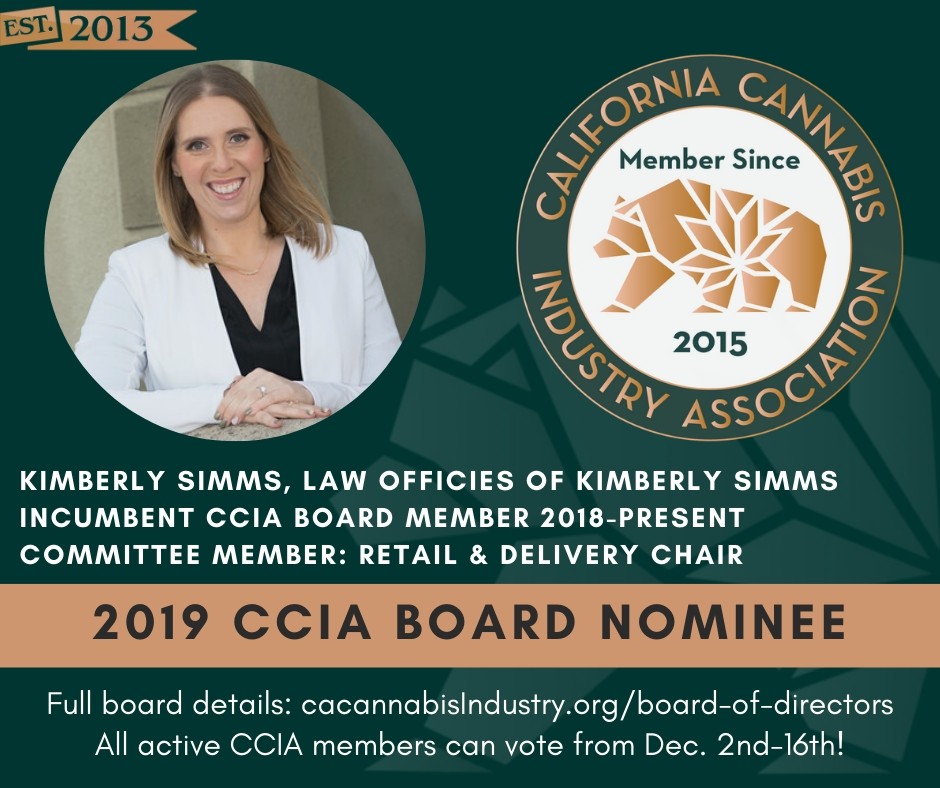 Kimberly R. Simms earned her law degree from Thomas Jefferson School of Law and became a member of the California State Bar in 2009.  Kimberly has dedicated her entire legal career to the cannabis industry. She started her law practice immediately after law school with a focus on the legal and regulatory needs of the medical marijuana industry.
In her law practice, she has negotiated with government officials to craft reasonable and effective regulations that allow for safe access, handled complex land use and zoning matters, advised on local and state regulations and advised hundreds of cannabis entrepreneurs to develop their cannabis business strategy and structure.
Kimberly is recognized as a leading expert in this emerging area of law.  She has taught courses and lead seminars which focus on how to comply with the ever-changing legal and regulatory requirements of the cannabis industry.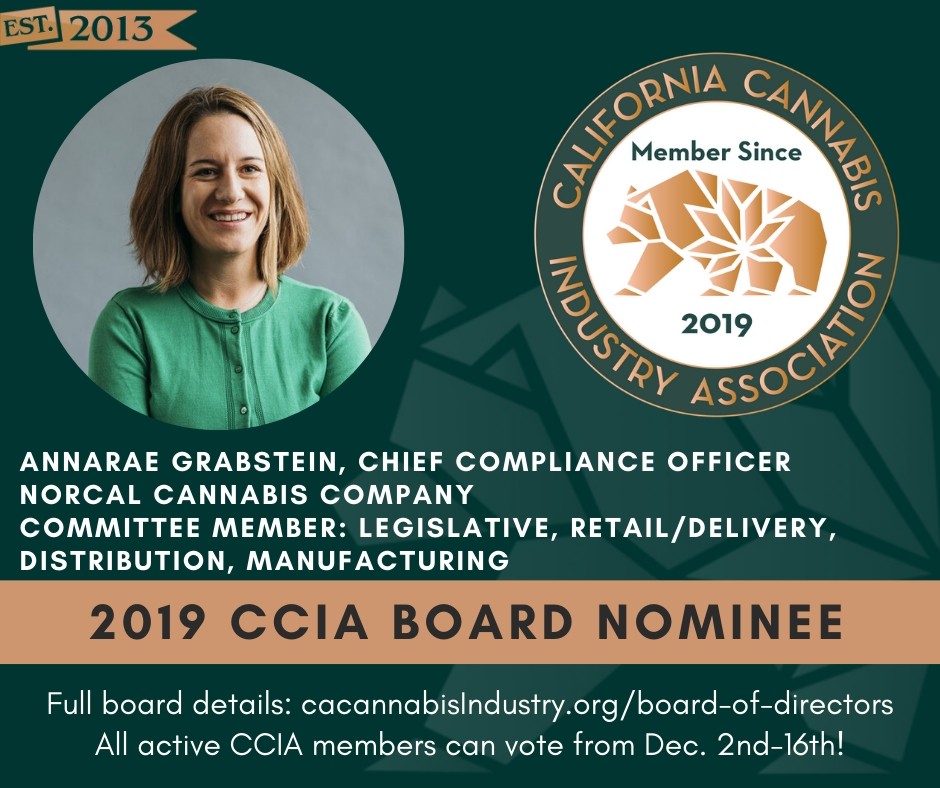 AnnaRae Grabstein, MBA, is Chief Compliance Officer of NorCal Cannabis Company, a vertically-integrated and direct-to-consumer cannabis company, where she leads efforts to navigate California's complex public policy environment. Her goal is for California to realize a thriving cannabis ecosystem where consumers, businesses, communities and government all win through the creation of sensible policy. 
As a passionate industry advocate, she communicates with disparate and diverse stakeholders to solve the challenges facing the rollout of regulated cannabis. And, as a recognized thought leader, she developed NorCal's social impact program focusing on equity, environment, employees, community and consumers.
Her depth of experience in the issuance, acquisition and operation of cannabis licenses across the supply chain and her education in business, make her qualified to provide direction on cannabis policy.
AnnaRae is a founding member of NORML's Women's Alliance, sits on the Board of Directors for WWOOF and was CEO of Steep Hill Lab.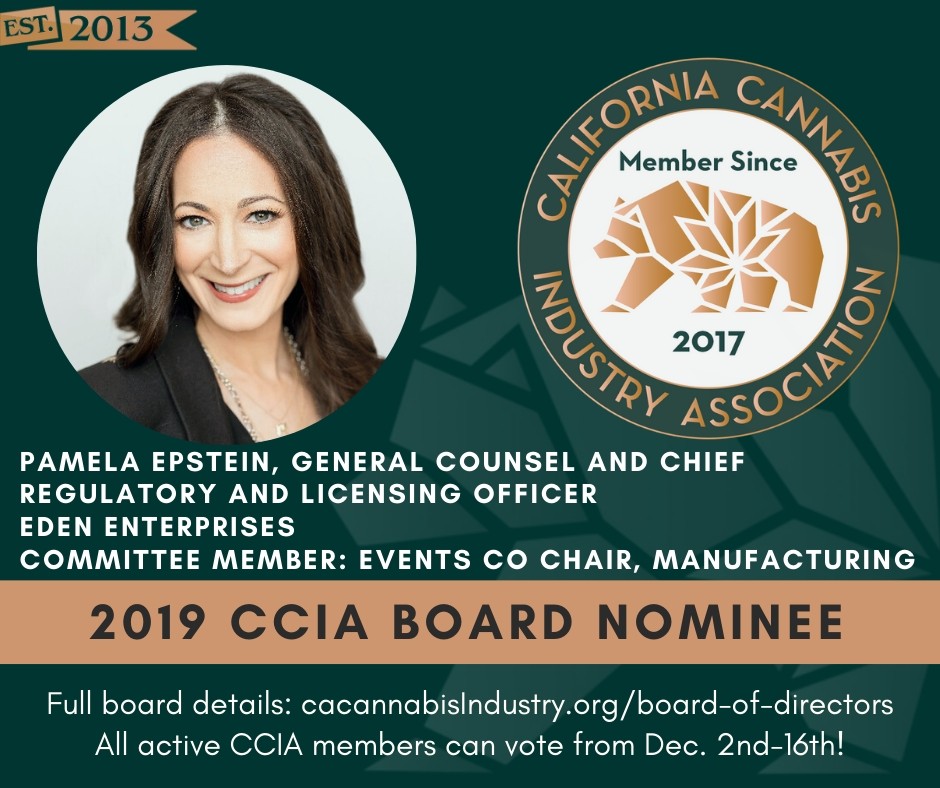 Pamela has made a name for herself as one of the cannabis industry's most respected, prominent, innovative female leaders and featured industry speaker. She serves as the General Counsel, Chief Regulatory & Licensing Officer for Eden Enterprises a vertically integrated company.
Epstein has used her extensive background in environmental law with an emphasis on regulatory compliance to help implement Eden's novel "Compassion Over Destruction" initiative. In Epstein's previous role with Green Wise she was known as a fearless advocate for cannabis businesses of all sizes across the supply chain.  She successfully guided them through the ever-changing legal and regulatory landscape.  Her passion and sense of duty to the community is unparalleled. Epstein also served as the Special City Attorney for cannabis regulation for the City of Hollister and is currently the Co-Chair of CCIA's Special Events & Social Consumption Committee, where she is working to update cannabis events regulations.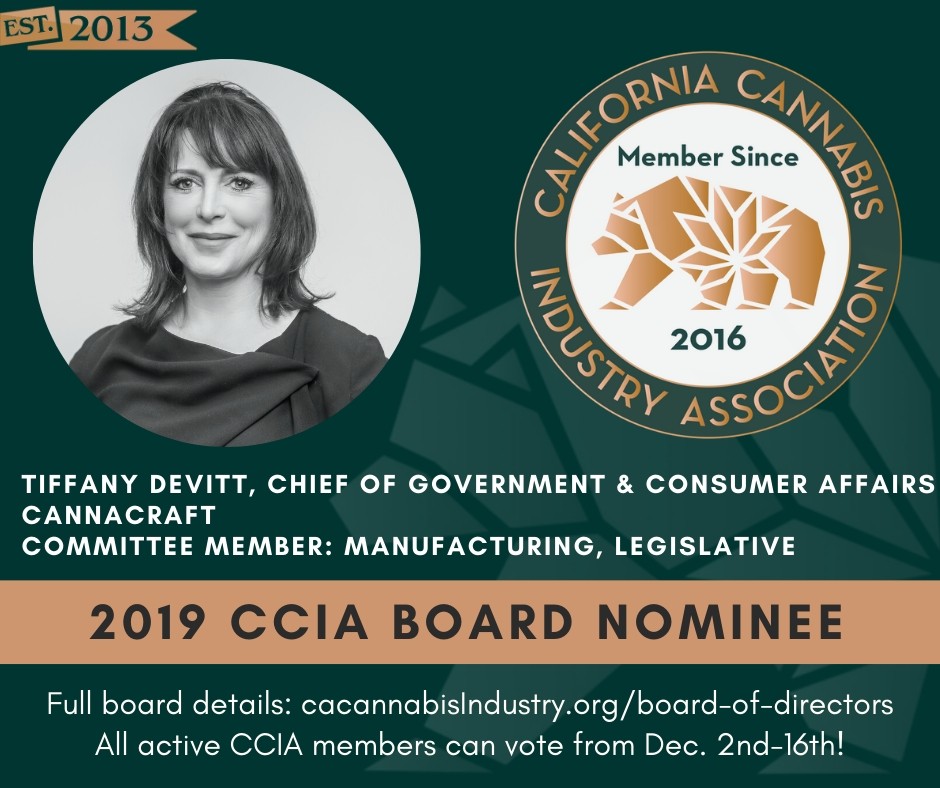 Tiffany Devitt is responsible for overseeing CannaCraft's consumer and government affairs. As such, she plays a valuable and vital role in shaping and executing the company's legislative priorities in Sacramento and DC. As a member of the National Cannabis Roundtable Board, she is working collaboratively with industry leaders from across the country to promulgate federal financial services reform and tax equity for the cannabis industry. 
Tiffany is a current and founding Board Member of CannaCraft, Kind House, and Emerald Pharms. She was the 2018 recipient of the North Bay Business Journal Women in Business Award. Tiffany received an undergraduate degree from Tufts University and a Master's from Stanford University.