2019 CCIA Board of Director Nominees
The 6th Annual CCIA Board Elections Are Underway!
Join other leading industry professionals in shaping the direction of California's cannabis industry
Being a CCIA Board Member is an important and influential position in California's newly regulated cannabis industry. Board Members vote on the CCIA budget, provide strategic policy direction, serve as representatives of CCIA, and participate in Capitol advocacy and recruitment events. At the conclusion of this election, the CCIA Board will be comprised of 15 dynamic individuals who are committed to representing California's fastest-growing industry.
Voting Process | Dec. 2nd - 16th
New to 2019, all active CCIA members in good standing will be eligible to vote in the Board elections.
The voting will follow a weighted system and breaks down as follows

Associate members ballot equals 1 submission
Business members ballot equals 3 submissions
Executive member ballot equals 5 submissions

With over 60% of the active CCIA membership being Associate members, this is a new opportunity for members to be directly involved in electing the leadership of CCIA
Eligible voters will be directed to an online ballot on December 2, and will be able to vote for candidates through December 16, at 5:00 PM. Each member-company gets one ballot, the first time-stamped ballot received will be counted.
2019 CCIA Board of Director Nominees
(I) = Incumbent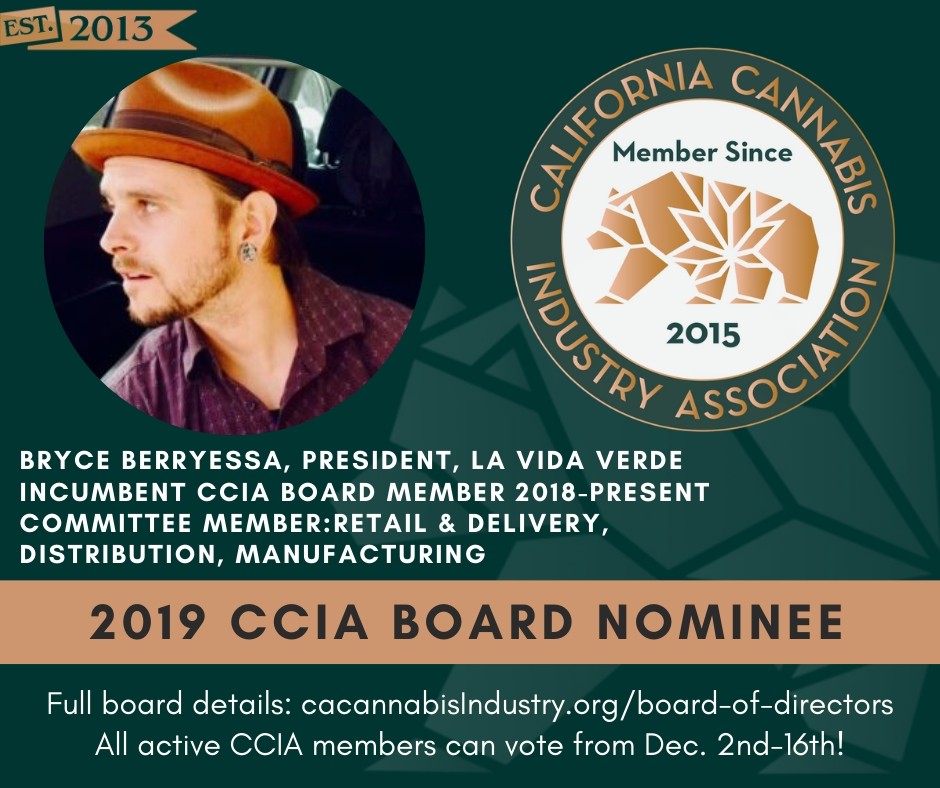 Bryce Berryessa received his Associate's degree in Science followed by a bachelor's degree in English and Communication from the University of Utah in 2005. Bryce is a veteran of the cannabis industry having founded and ran several businesses throughout the cannabis supply chain and currently operates cultivation, manufacturing, distribution, and retail business based in Santa Cruz California.
Bryce is a sought after public speaker and has spoken on a variety of topics from extraction, cannabis policy, sustainable cultivation practices at some of the largest cannabis events including future cannabis project, Green Flower Media Cannabis Summit, CWCBExpo, State of Cannabis, NCIA cannabis summit.
Bryce is currently on the Board of Directors for CCIA and is an active participant in the manufacturing committee. He also sits on the board of directors of CCMA. He was listed in Marijuana Ventures Magazine as a cannabis top 40 under 40. He lives in Santa Cruz with his wife Crista and two boys Odin and Sage.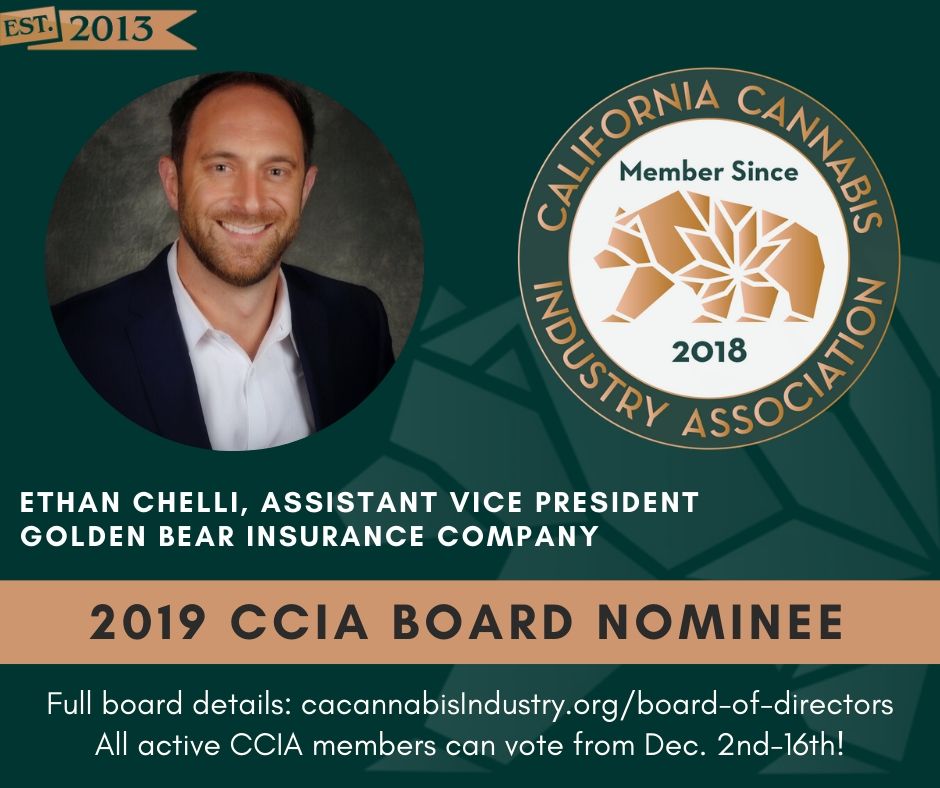 Prior to Golden Bear, Ethan worked in the excess and surplus lines market as a broker's assistant before joining Golden Bear in 2009. There he began his work in the property department, eventually being named to an Underwriter position and eventually moving out to San Francisco to work in that office and expand Golden Bear's broker relationships in the region.
Recently promoted to Assistant Vice President, Ethan has relocated back to the Stockton office to join the Cannabis division to facilitate it growth as Golden Bear expands beyond its borders of California in this ever-evolving market place.
Outside of work he enjoys exercising, golf, live sporting events and spending time with family and friends.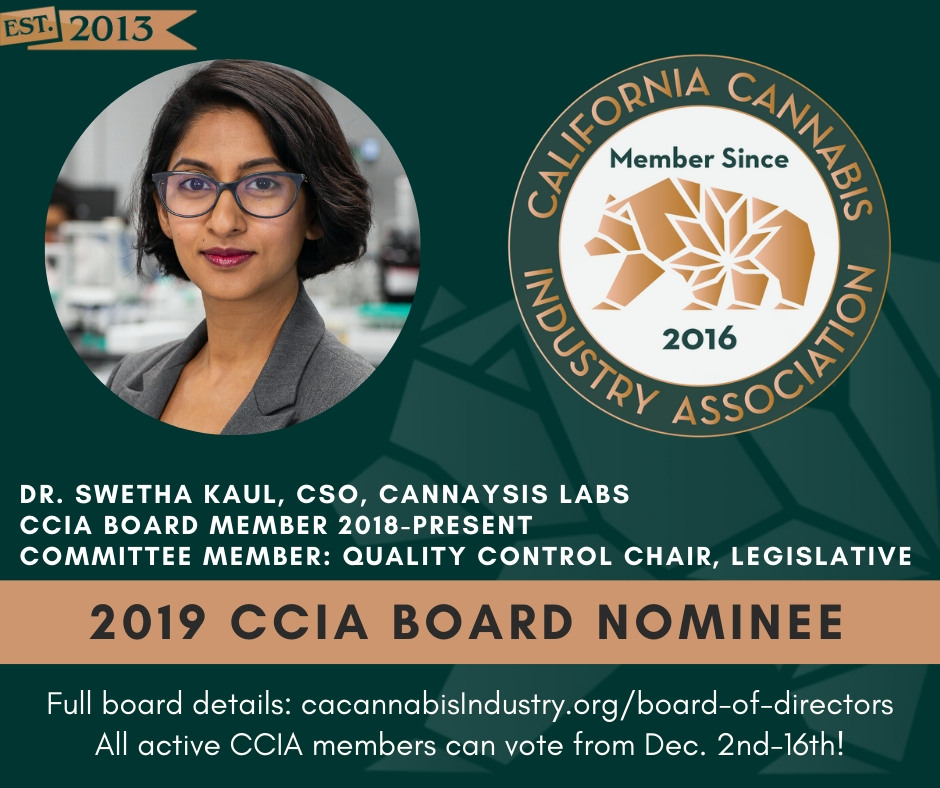 Dr. Swetha Kaul currently serves as the Chief Scientific Officer at Cannalysis, an ISO/IEC 17025:2005 accredited cannabis testing laboratory that seeks to empower customers through technology integrations, big data analytics and access to information. Swetha has an MS in Pharmacology and Toxicology and a PhD in Analytical Chemistry from University of Kansas.
Her experience working in the highly regulated pharmaceutical industry provides valuable insight into the rigorous scientific practices required for compliance. She has authored several white papers and has been on numerous panels discussing scientific methods and regulations relating to laboratory testing within the industry. As a member of the California Cannabis Industry Association Board of Directors and Chair of the Quality Control Committee, Swetha is committed to educating the general public about the science behind testing procedures and legitimizing the cannabis industry by setting a high bar for scientific integrity.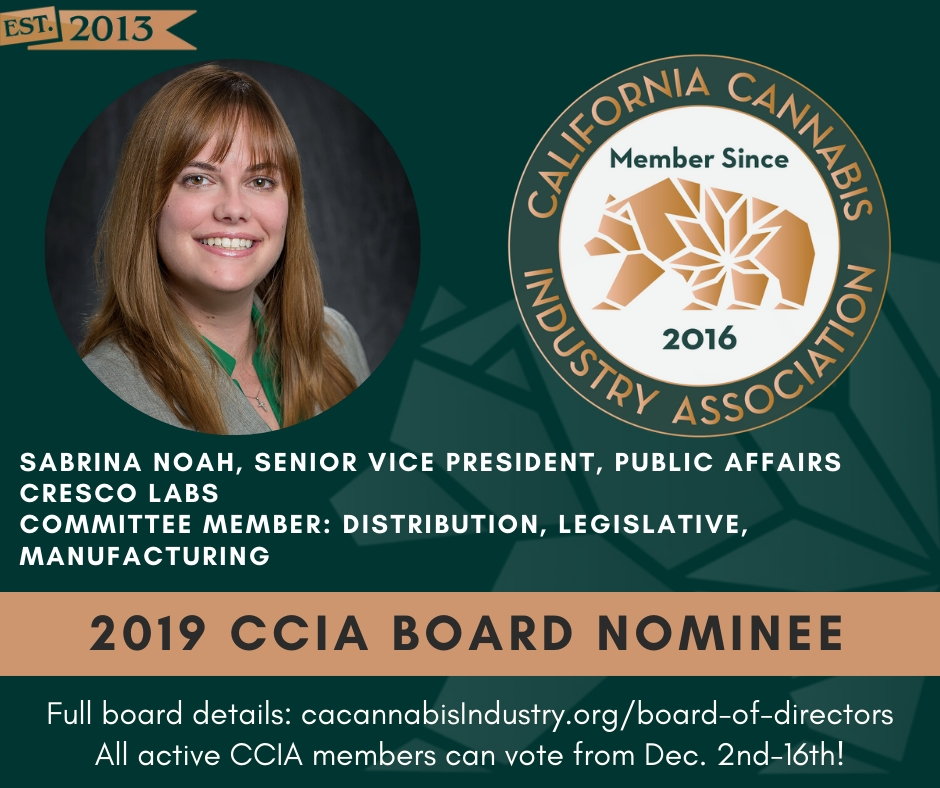 As Cresco Labs Senior Vice President of Public Affairs, Sabrina Noah's work advancing the company's presence in new markets.
She is a top leader in managing the political and regulatory environment for large scale cannabis companies. A fifteen-year history working in government relations and organizing grassroots campaigns, with the last three years working to open access to medical cannabis for patients across the country. She was integral in helping several new medical cannabis markets draft their legislation.
Ms. Noah's work is a critical component to Cresco Labs' growth strategy to be one of the largest US-based cannabis companies.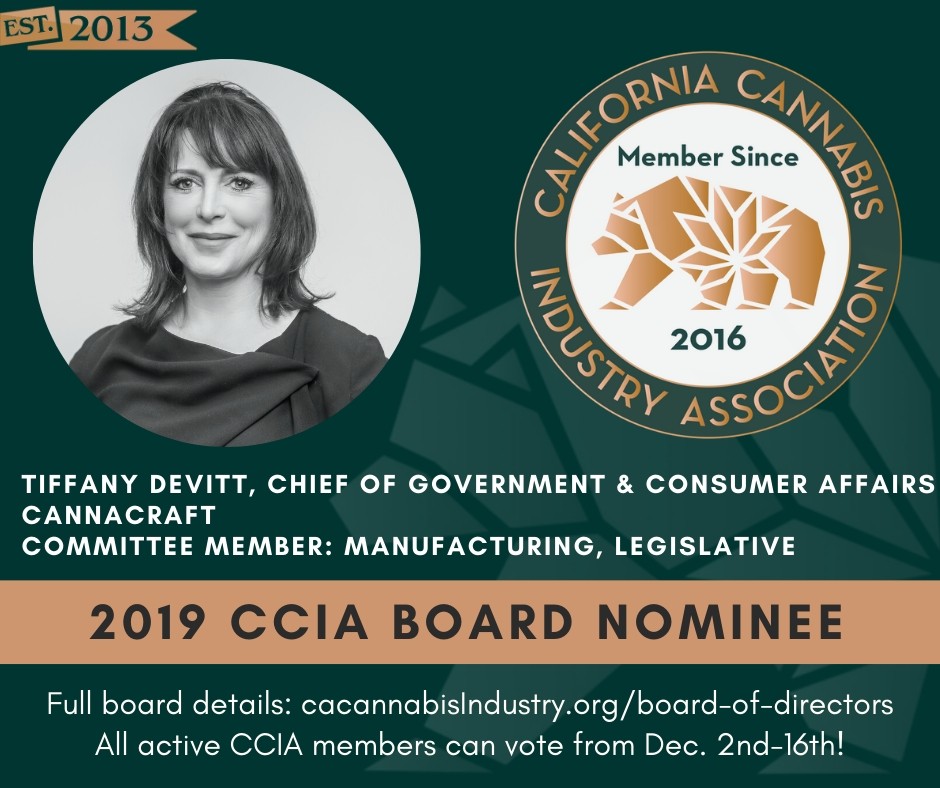 Tiffany Devitt is responsible for overseeing CannaCraft's consumer and government affairs. As such, she plays a valuable and vital role in shaping and executing the company's legislative priorities in Sacramento and DC. As a member of the National Cannabis Roundtable Board, she is working collaboratively with industry leaders from across the country to promulgate federal financial services reform and tax equity for the cannabis industry. 
Tiffany is a current and founding Board Member of CannaCraft, Kind House, and Emerald Pharms. She was the 2018 recipient of the North Bay Business Journal Women in Business Award. Tiffany received an undergraduate degree from Tufts University and a Master's from Stanford University.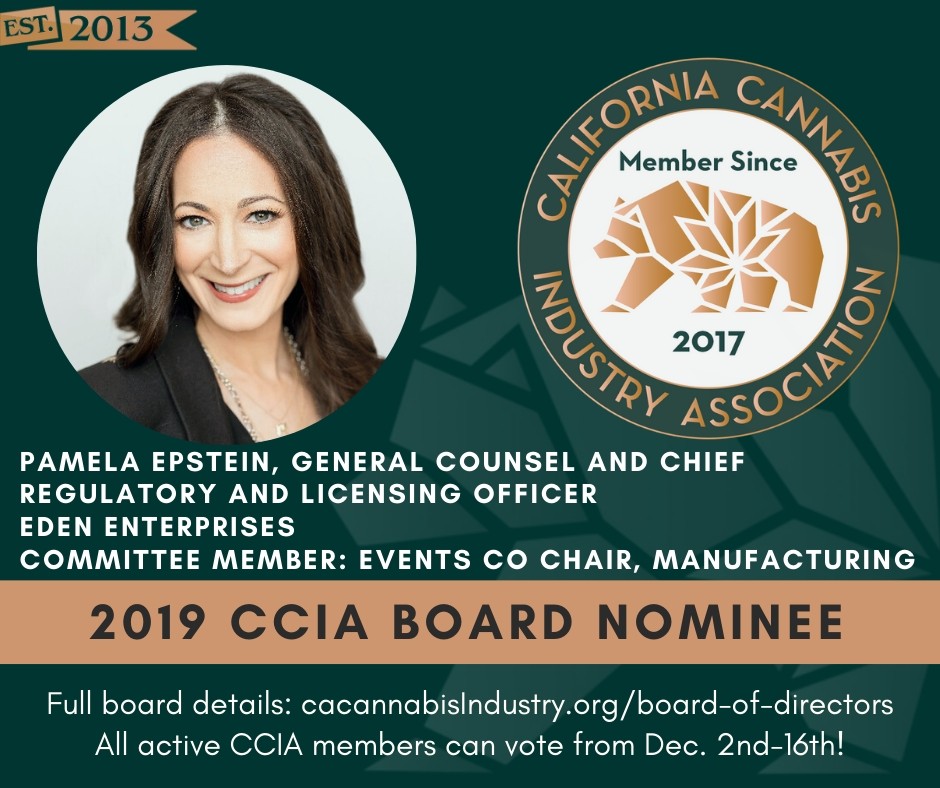 Pamela has made a name for herself as one of the cannabis industry's most respected, prominent, innovative female leaders and featured industry speaker. She serves as the General Counsel, Chief Regulatory & Licensing Officer for Eden Enterprises a vertically integrated company.
Epstein has used her extensive background in environmental law with an emphasis on regulatory compliance to help implement Eden's novel "Compassion Over Destruction" initiative. In Epstein's previous role with Green Wise she was known as a fearless advocate for cannabis businesses of all sizes across the supply chain.  She successfully guided them through the ever-changing legal and regulatory landscape.  Her passion and sense of duty to the community is unparalleled. Epstein also served as the Special City Attorney for cannabis regulation for the City of Hollister and is currently the Co-Chair of CCIA's Special Events & Social Consumption Committee, where she is working to update cannabis events regulations.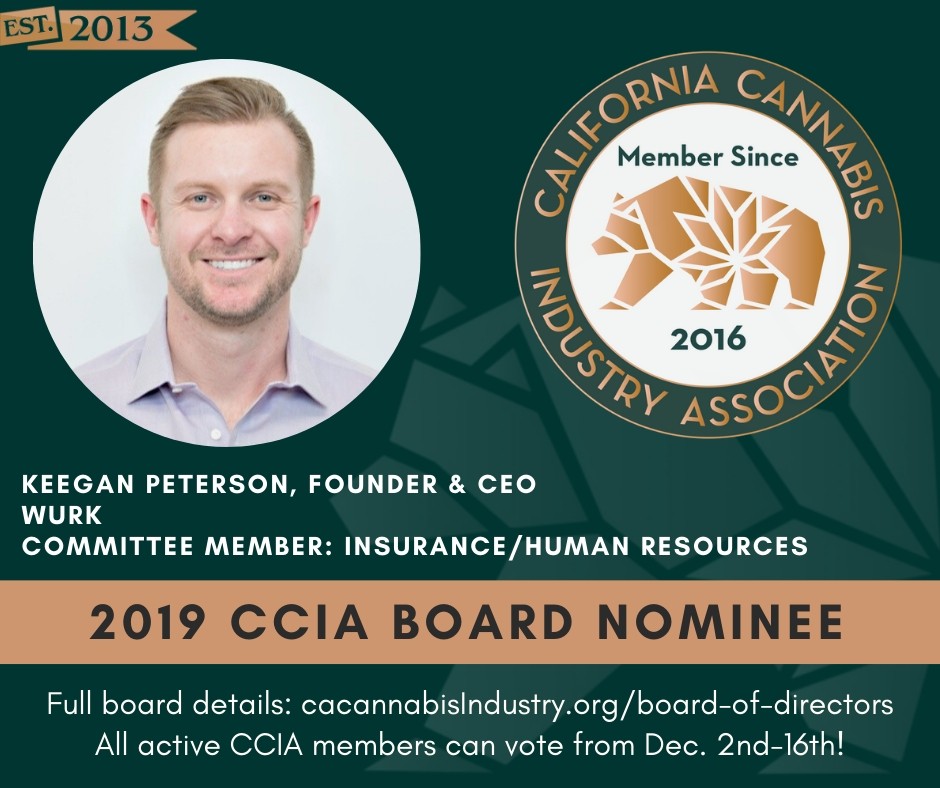 Keegan Peterson is Founder and CEO of Würk, the first and leading human capital management company for the cannabis industry. Based in Denver, Keegan developed Wurk in 2015 after recognizing that cannabis businesses were repeatedly being dropped by workforce management vendors. Since then, Keegan has grown the company to more than 80 staff, over 65% of whom are female. Wurk has expanded to service over 200 clients across 33 states, including some of the largest publicly traded cannabis corporations in the nation. Würk now pays one in ten employees in the cannabis industry.  
Prior to founding Wurk, Keegan spent eight years working for high-growth HR technology companies, developing a deep understanding of the various solutions within the space. Keegan has worked with some of the world's best-known retail and hospitality brands in the world, including PetSmart, Target and Whole Foods.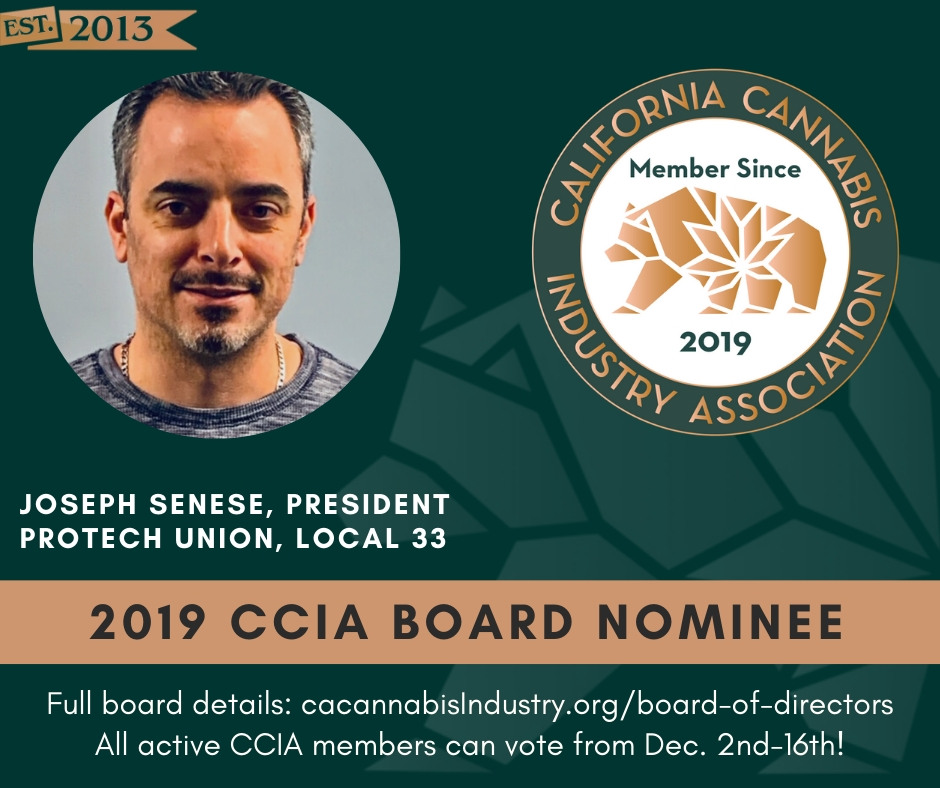 Joseph Senese is President of PROTECH Local 33 and Vice-President of the National Union, which he has worked with for the past 19 years. The Union is a proud Executive Member and the only union that is a member of CCIA.
Joe and the Union have worked with many companies across all levels of membership with the CCIA and have helped them become compliant as well as maintain compliance in the ever changing California cannabis industry.
PROTECH works closely with many national and independent law firms, as well as various consulting companies, to ensure their clients are educated, meeting legal requirements, and are achieving their goals as a business.
"It would be an honor to continue to work with the Membership as an elected CCIA Board Member, alongside the Board of Directors and Staff, to continue to support the businesses and fight for progress in the California Cannabis Industry."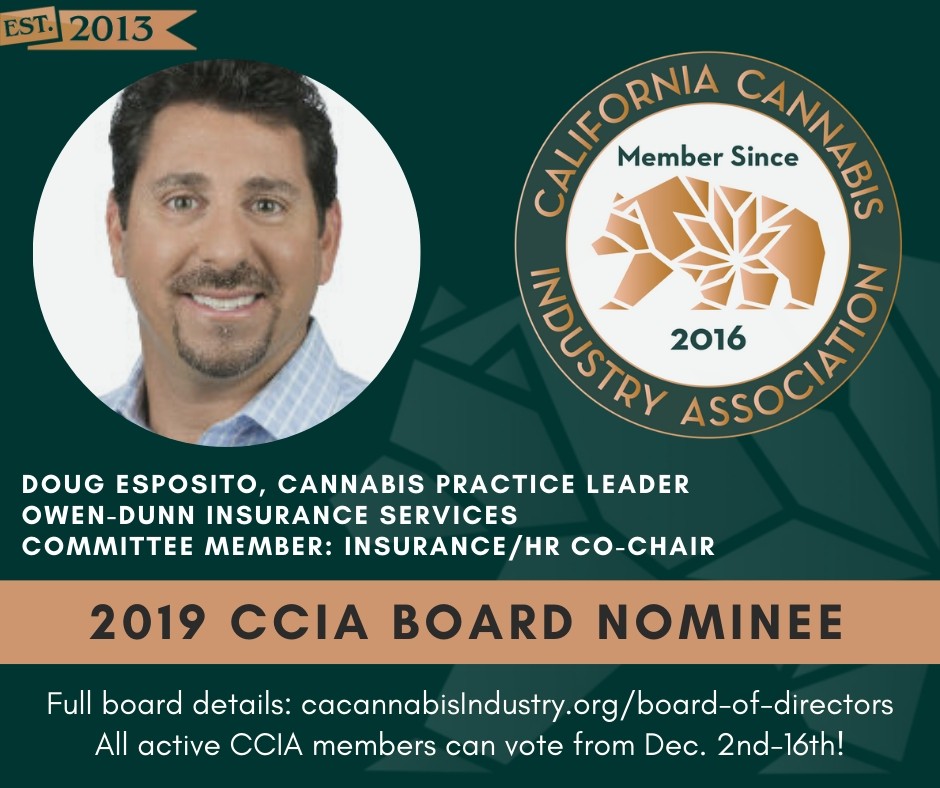 Doug Esposito has been a Property & Casualty Specialist with Owen-Dunn Insurance Services, since 2002. Doug leads the firm's Cannabis Practice and his current clients include cultivators, manufacturers, extractors, distributors, dispensaries and property owners, so he knows what challenges are facing the growing industry and is skilled at providing solutions. 
Doug currently serves as the Co-Chair for the CCIA's Insurance & Human Resources Committee and understands the importance and need to educate the public on the plant, its expanding list of uses, challenges and rewards of doing business within the industry. 
As an active member in the cannabis community for the past 5 years, his broad knowledge of the industry and innovative & problem-solving mind, Doug is an asset to the industry.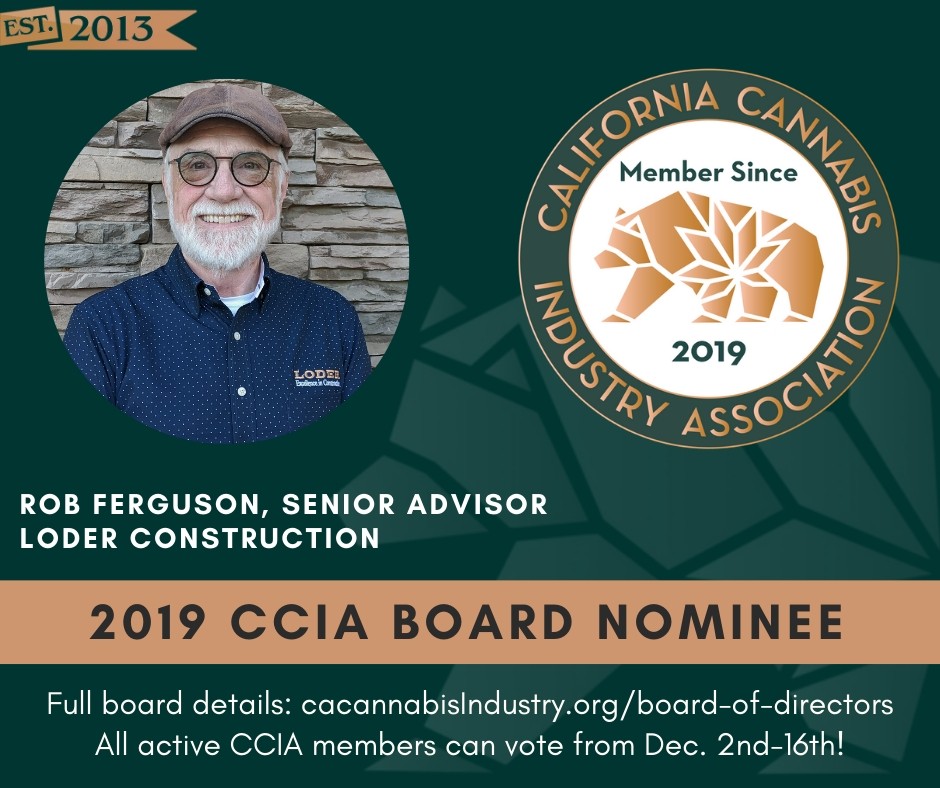 I began my professional career in 1973 in San Francisco in the insurance industry, specializing in executive compensation and business insurance. A decade later I created a consulting firm, specializing in working with businesses that became insolvent, creating and implementing plans back to financial health. In the mid-90's I focused my consulting on start-up businesses that wanted to achieve significant growth, helping to create over 50 firms, many of them national.
Eventually I hosted a business radio program in the SF Bay Area. I left the consulting business in 2007 after a significant weight loss and created a health training company.
Today I am Senior Advisor to Loder Construction, a leading cultivation and manufacturing construction firm, where I assist in developing their business in the cannabis industry. My experience and business skills can help CCIA achieve their goals.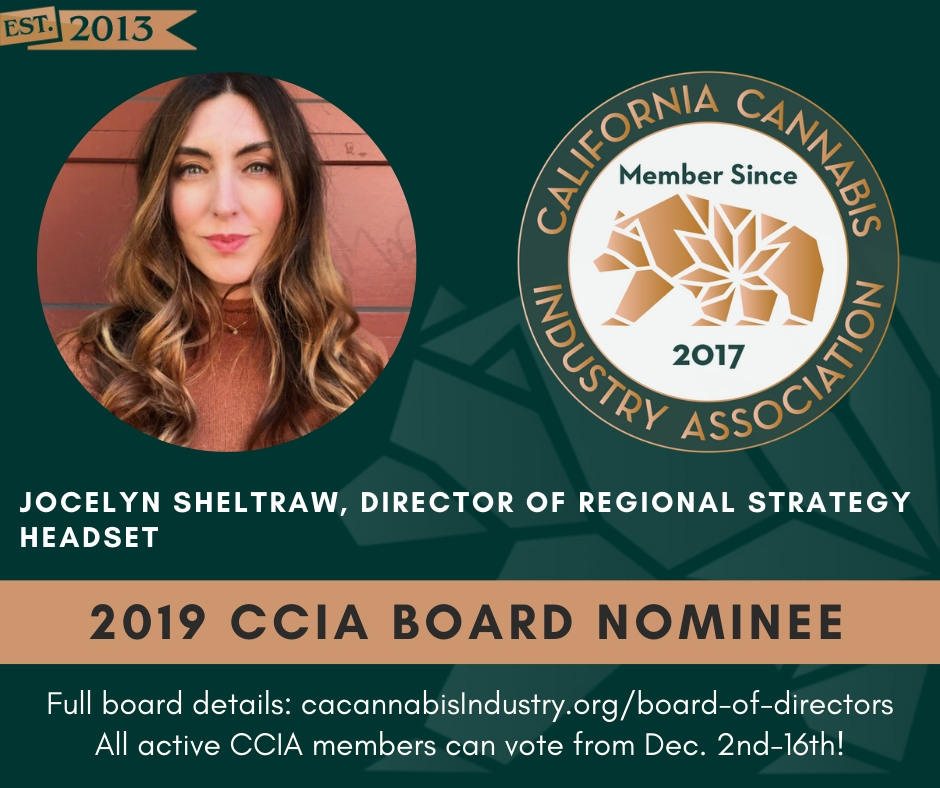 Jocelyn Sheltraw is the Director of Strategy at Headset, responsible for operations in California, as well as new market expansion. Jocelyn works throughout the industry with Retailers, Brands, Investors, Social Equity, and city and state associations focused on the growth of the cannabis industry. 
Prior to joining the cannabis industry, Jocelyn spent 10 years working in mobile advertising and technology developing the advertising and monetization strategies for apps including: Flipboard, Spotify, SoundCloud, Pandora, Uber to name a few.  
An entrepreneur at heart, Jocelyn built and launched her own app, and sat on the leadership team for the non-profit, Women in Wireless, advocating for women in technology leadership positions. She now advocates against the social stigma of the cannabis consumer.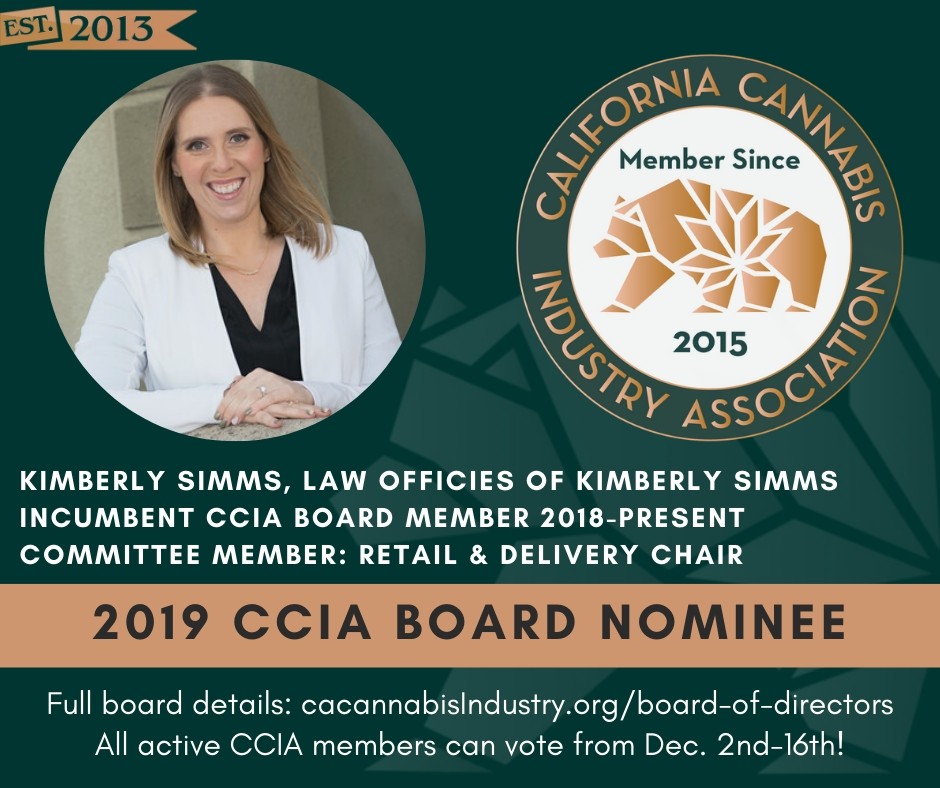 Kimberly R. Simms earned her law degree from Thomas Jefferson School of Law and became a member of the California State Bar in 2009.  Kimberly has dedicated her entire legal career to the cannabis industry. She started her law practice immediately after law school with a focus on the legal and regulatory needs of the medical marijuana industry.
In her law practice, she has negotiated with government officials to craft reasonable and effective regulations that allow for safe access, handled complex land use and zoning matters, advised on local and state regulations and advised hundreds of cannabis entrepreneurs to develop their cannabis business strategy and structure.
Kimberly is recognized as a leading expert in this emerging area of law.  She has taught courses and lead seminars which focus on how to comply with the ever-changing legal and regulatory requirements of the cannabis industry.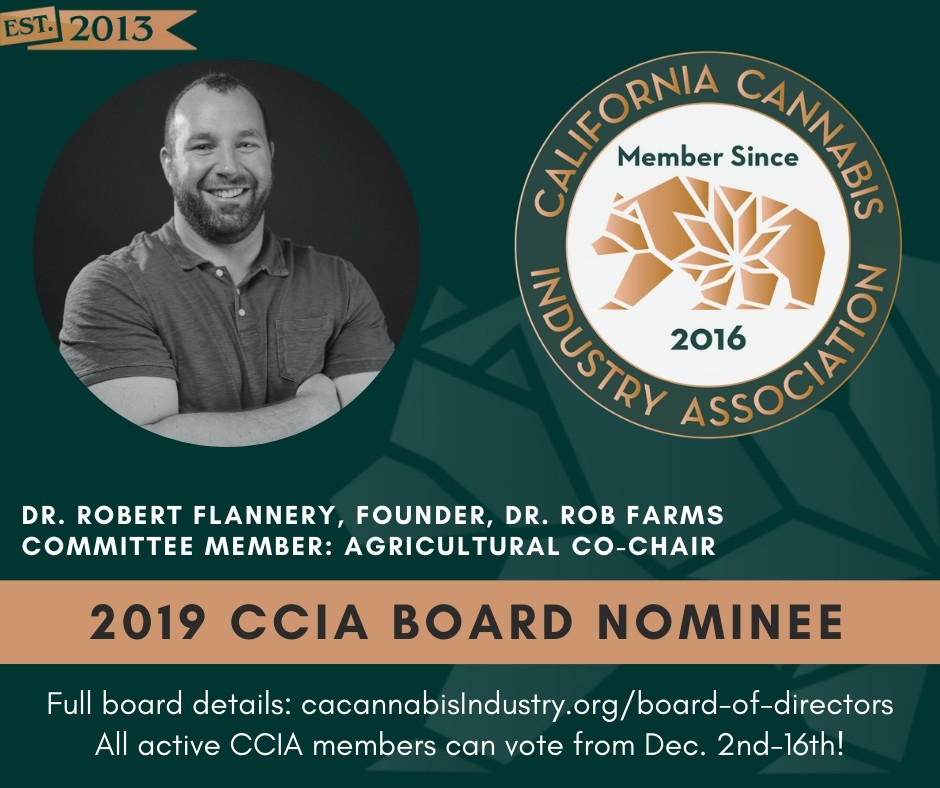 Dr. Robert Flannery, aka Dr. Robb, is the first Ph.D. in the United States that has the technical training and expertise in commercial cannabis cultivation. Dr. Flannery has a Ph.D. in Plant Biology with an emphasis in Environmental Horticulture and a specific expertise in hydroponic crop optimization for cut-flower production from UC Davis. Dr. Flannery is CEO of Dr. Robb Farms, a premier California Cannabis company that has products and operations throughout the State of California.
His launch of Dr. Robb Farms was the result of his mom's cancer diagnosis, and his fear of sourcing contaminated/dirty medicine for her was the impetus for launching Dr. Robb Farms. He sits as the vice-chair for the Agriculture Committee at CCIA, and has recently been recruited as an advisor to UC Davis as they develop their new Cannabis Research Institute on campus.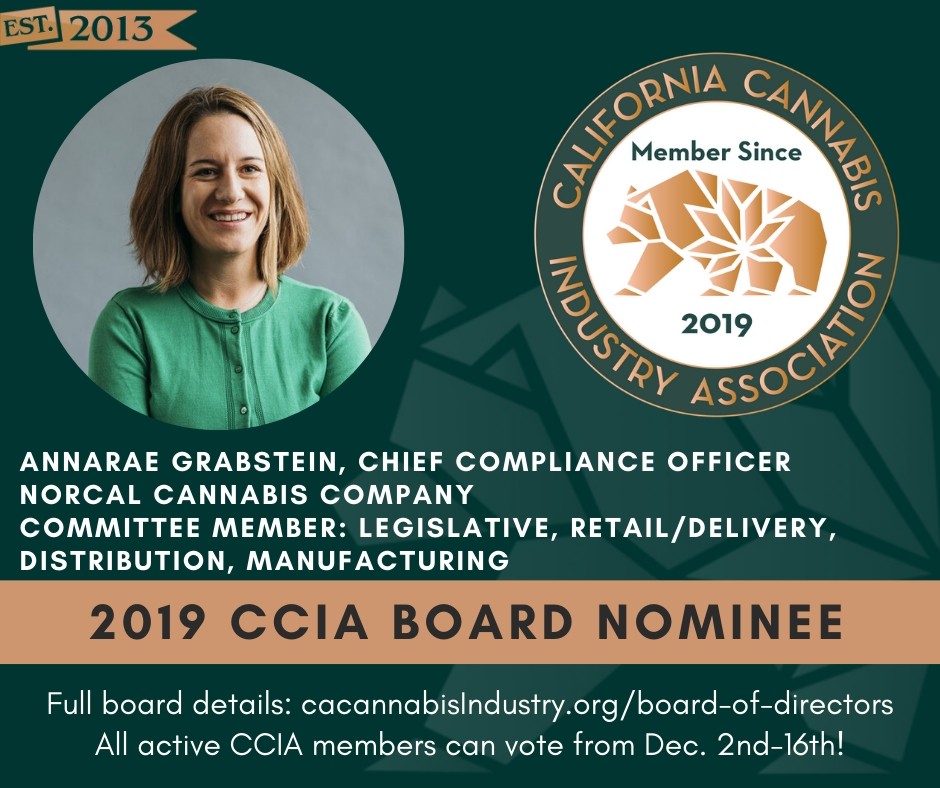 AnnaRae Grabstein, MBA, is Chief Compliance Officer of NorCal Cannabis Company, a vertically-integrated and direct-to-consumer cannabis company, where she leads efforts to navigate California's complex public policy environment. Her goal is for California to realize a thriving cannabis ecosystem where consumers, businesses, communities and government all win through the creation of sensible policy. 
As a passionate industry advocate, she communicates with disparate and diverse stakeholders to solve the challenges facing the rollout of regulated cannabis. And, as a recognized thought leader, she developed NorCal's social impact program focusing on equity, environment, employees, community and consumers.
Her depth of experience in the issuance, acquisition and operation of cannabis licenses across the supply chain and her education in business, make her qualified to provide direction on cannabis policy.
AnnaRae is a founding member of NORML's Women's Alliance, sits on the Board of Directors for WWOOF and was CEO of Steep Hill Lab.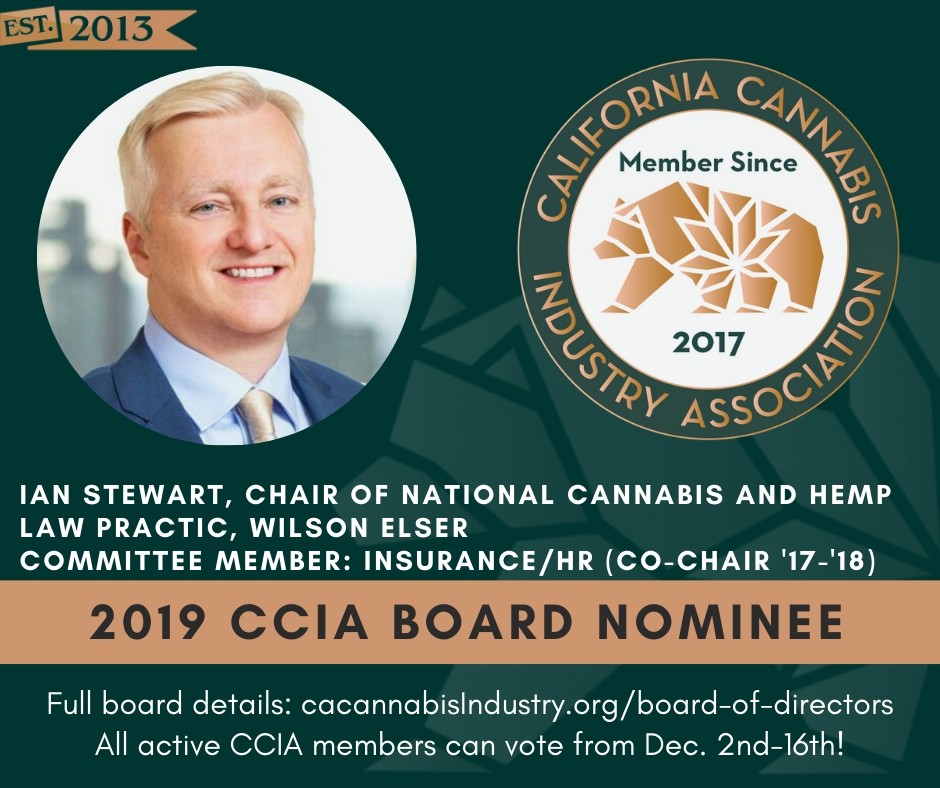 Ian is the founder and co-chair of the Cannabis and Hemp Law practice at Wilson Elser, an AmLaw 200 law firm with 850 attorneys in 37 offices in the United States and London. Ian leads a national multi-disciplinary team of lawyers who serve all aspects of the cannabis and hemp industries, as well as financial institutions and insurance companies that service those industries.
By way of background, Ian has defended complex litigation in state and federal courts for more than 20 years with a focus on practice areas relevant to the cannabis industry, including product liability, complex general casualty, transportation, data privacy and intellectual property litigation. 
Ian is a member of NCIA's Policy Counsel. He is the former chair of the NCIA Finance and Insurance Committee and former vice-chair of CCIA's Insurance Committee.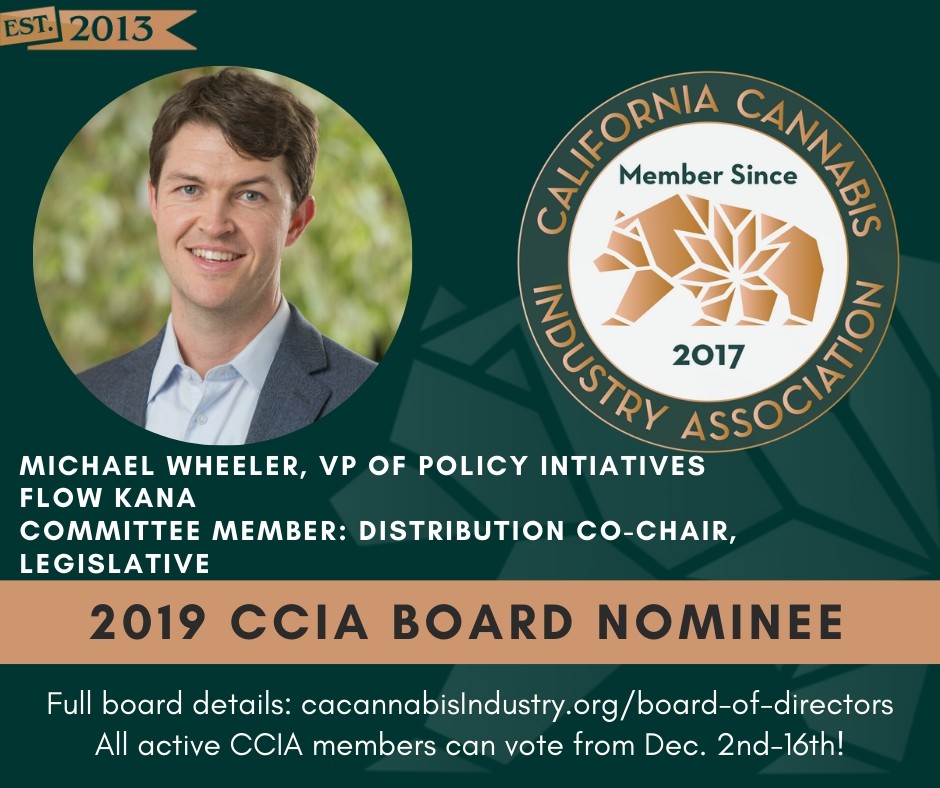 Michael Wheeler is the Vice President of Policy Initiatives at Flow Kana, a sustainable, sun-grown cannabis, supply chain company.
Michael leads the company's public policy interests at the local, state and federal level. Michael co-chairs the Distribution Committee and is the executive representative to the California Cannabis Industry Association.  He has been interviewed on cannabis issues by the Washington Post, MJBizDaily, Law360, and has participated in numerous panels at cannabis conferences.  
Michael Wheeler came to Flow Kana in 2017 with more than 12 years of policy expertise in the clean energy sector.  Since 2011, Michael led one of the U.S.'s largest solar developer's legislative and regulatory affairs agenda at the state and federal level. Michael was Board Chair of the Large-scale Solar Association in CA, and started the Texas Solar Association in Austin.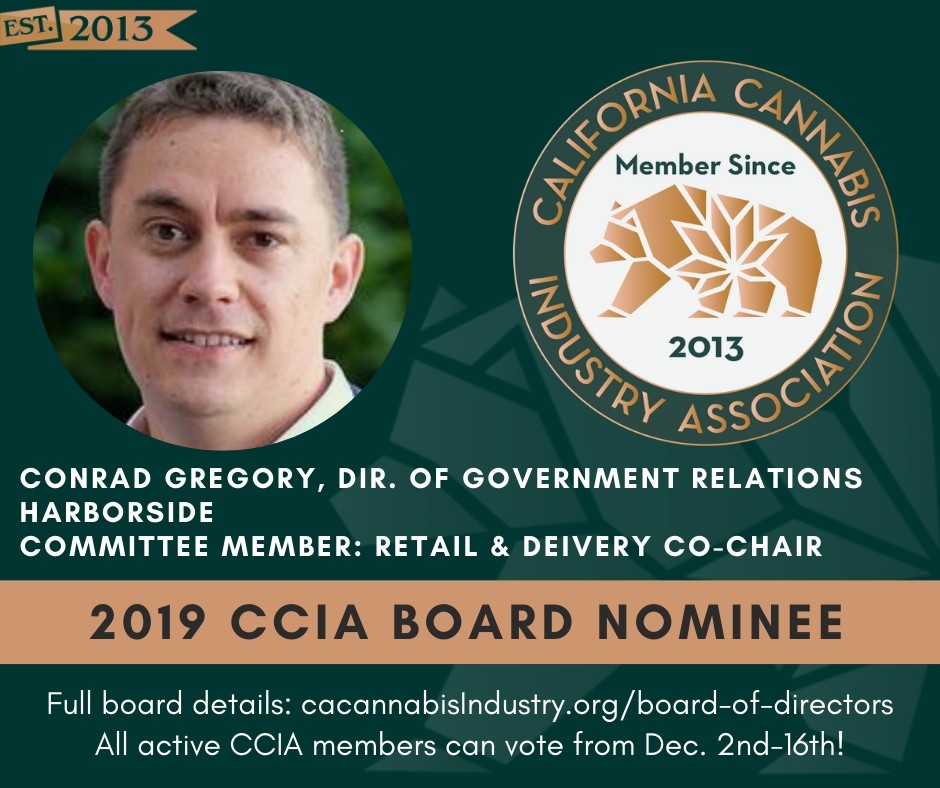 Conrad Gregory leads the government relations and licensing activities of Harborside Inc., one of the oldest and most respected cannabis companies in the country. His work covers the policy and politics of the cannabis industry as well as the development of current and future licenses.
Prior to joining Harborside, Gregory helped run several successful political campaigns at the local, state and federal levels before moving to Sacramento to work for then-Lieutenant Governor Gavin Newsom as Chief Consultant for Economic Policy. Gregory's work culminated in overseeing the Lt. Governor's Blue Ribbon Commission on Marijuana Policy, which ultimately influenced Proposition 64 to legalize adult-use cannabis in California.
In addition to his work at Harborside, Gregory co-chairs the CCIA Retail and Delivery Committee and is a founding member of Oakland Citizens for Equity and Prosperity (OCEP).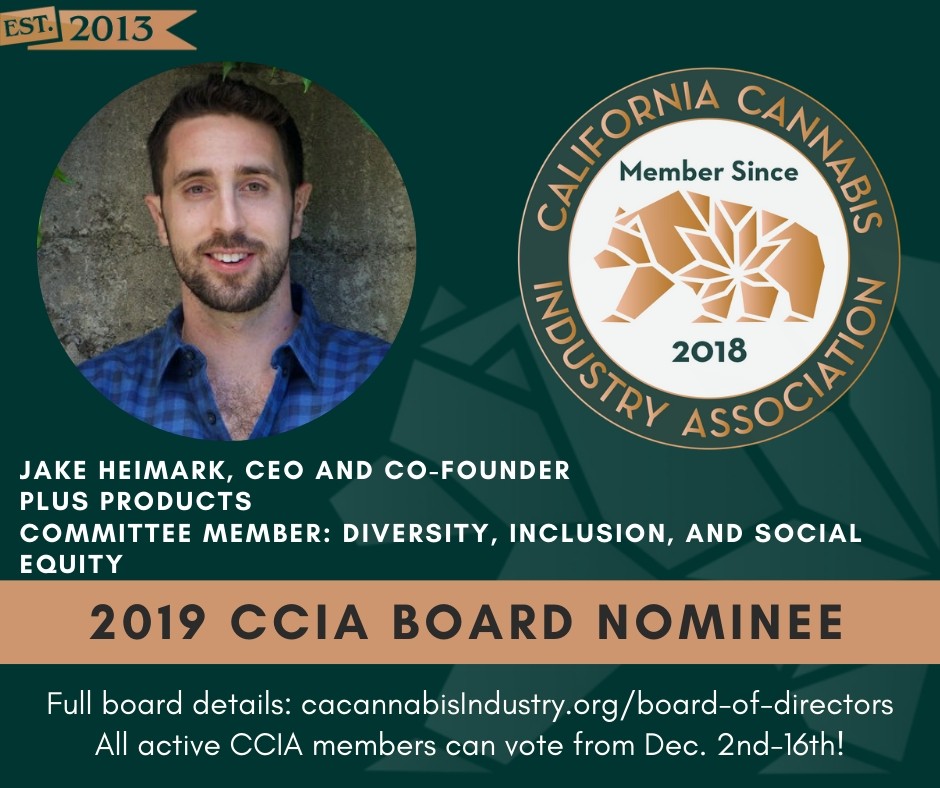 Jake Heimark co-founded Plus Products in 2015 and has spent nearly five years developing PLUS' reputation in California as one of the leading producers of precisely-dosed and tasty cannabis-infused confections.  Having previously worked as a product manager at Gumroad and as a payments risk manager at Facebook, he is familiar with the intricacies and challenges of regulated industries, and passionate about working to make regulated cannabis safe and approachable for all Californians.
A native of Palo Alto, CA, Jake holds dual degrees in Human Biology and Economics from Brown University. If elected, he will work tirelessly on behalf of the CCIA to improve the rollout of the legal market by working with legislators to bring more dispensaries online, lower some of the excessive fees, and create a stronger business environment for cannabis in California.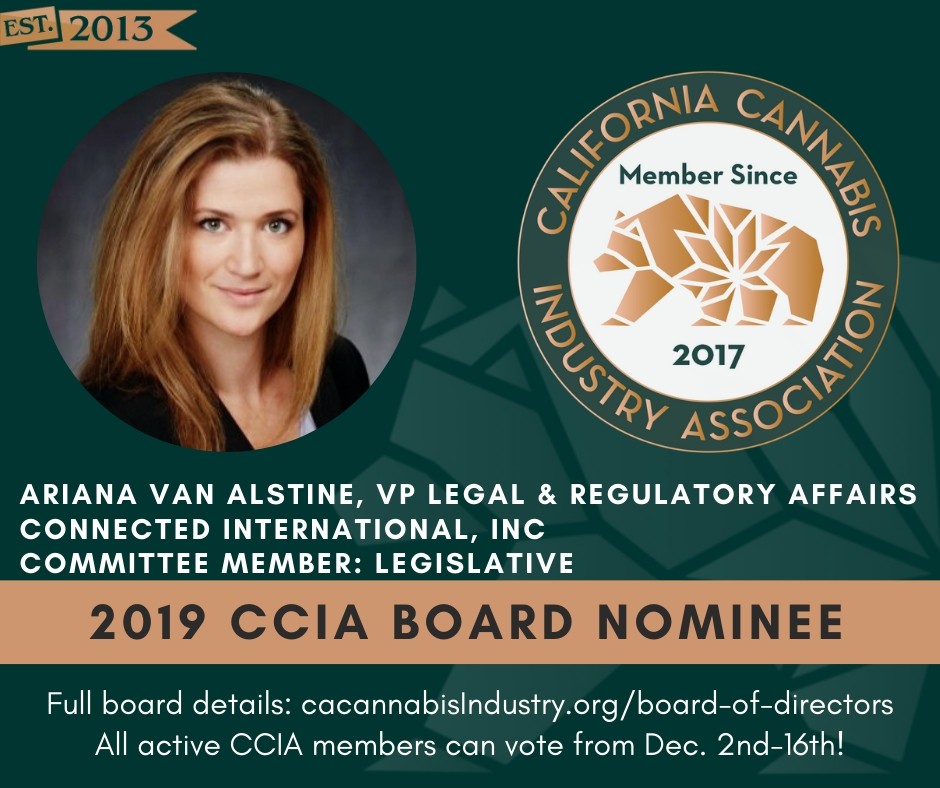 Ariana Van Alstine recently joined Connected as VP of Legal and Regulatory Affairs where she oversees the vertically integrated company's legal, compliance, and local and state regulatory affairs departments.
Prior to joining Connected, Ariana created and ran a practice representing cannabis businesses across a range of sizes and license types for their licensing and compliance needs. She has regular public-speaking engagements, and prepared a course on cannabis licensing for University of the Pacific, McGeorge School of Law. Ariana is a California Super Lawyer, Rising Star. She sits on the Board of Women Lawyers of Sacramento, and on the Advisory Board for Khemia. Ariana also participates on the CCIA Legislative Subcommittee, and previously sat on the CCIA Subcommittee for Insurance.
Ariana is a member of the Sacramento County Bar Association, Barristers' Club of Sacramento, International Cannabis Bar Association, and the Women in Cannabis Chamber of Commerce.